Swell Lodge
Island Experiences
 Australia's
Christmas Island
1500km northwest of the mainland, the stunning tropical paradise of Christmas Island is known as the 'Galapagos of the Indian Ocean' and is Australia's best-kept secret. Just 16km wide, this tiny green jewel is a surprisingly diverse wonderland of experiences – more than enough to fill a week, which is our recommended stay.
Daily guided tours are included! Our knowledgeable, friendly guides will collect you from your eco-chalet and show you the diverse natural wonders of this unique island. What you'll see depends on the weather, your abilities, interests, and how long you stay: bookings for 4+ nights for example, include a great snorkel boat tour. Daily tours usually combine guests from both eco-chalets, however private tours can be arranged at an added cost, subject to availability.
In the Air
Christmas Island is a bird-watcher's heaven with a rich variety of unusual endemic species. It's only place on Earth where the critically endangered Abbott's booby nests, we have two of Australia's rarest raptors (C.I. Hawk owl and Goshawk), our own emerald dove, frigatebird and the spectacular golden bosun with its theatrically long tail. There's red-tailed tropicbirds, terns, brown and red-footed boobies and even an endemic flying fox that comes out during the day. Inquisitive thrushes follow you through the forest, fluffy booby chicks peer out curiously from coastal rocks and seabirds often circle back for a closer look as you stand on your ocean deck. All are wonderfully relaxed, allowing unforgettably intimate encounters.
Underwater
Christmas Island boasts some of the best snorkelling, scuba diving and freediving in the world, with water temperatures remaining a balmy 26-29°C year-round. Underwater visibility usually exceeds 30 metres even right in the cove, where the kaleidoscope of fish makes even the Barrier Reef look dull. We have dolphins, turtles, giant trevally, clownfish, clams, shipwrecks, some of the longest drop-off dive walls in the world and in the right season, even whale sharks and manta rays! Snorkelling gear is included with every stay, along with a boat trip if you stay 4 or more nights, weather permitting. Scuba diving can also be arranged, and accredited freediving lessons.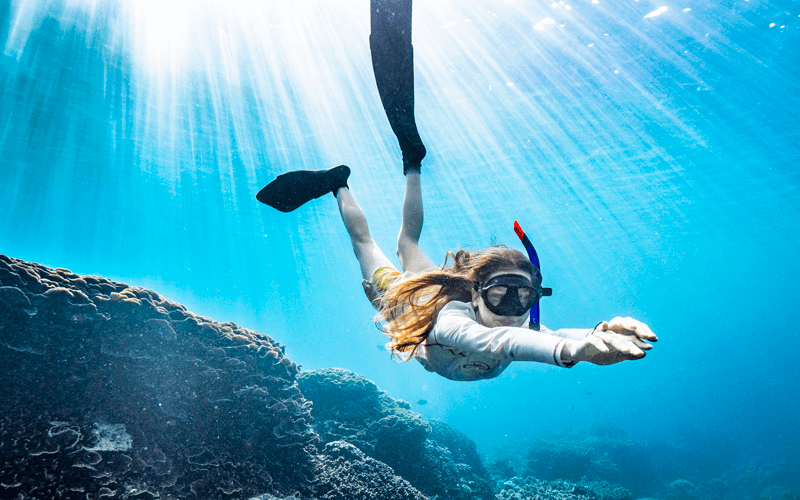 On the Land
Our most famous inhabitants are our 40 million red crabs which can be found year-round, manicuring the jungle floor. When the rainy season starts however, they embark on one of the largest migrations in the animal kingdom, down to the coast to spawn in a spectacle Sir David Attenborough rates as one of his top 10 natural wonders on Earth. Wander tranquil rainforest trails to secluded turtle-nesting beaches, through RAMSAR wetlands to pristine jungle waterfalls you can stand under, swimming holes to plunge into and a new boardwalk leads you right between heart-stopping coastal blowhole geysers! There are refreshing tidal rock pools, lookouts, underground limestone caves, fascinating research and bird rehabilitation programs and more.
One week isn't long enough and guests even returned to experience different seasons.
discover
Australia's best-kept secret
We Have Vacancy!
Treat yourself to the Swell Lodge experience.