Book in for August 2023 and…
Fly to Christmas Island FREE!
Book a 7-Night stay at Swell Lodge during August 2023 and we will
discount your stay $1,250 per person!
Book a 4-Night stay at Swell Lodge in August 2023 and we will
discount $650 per person!
Our 7 night stay discount offer covers an economy return airfare from Perth to Christmas Island flying Virgin Australia, for one person. The 4 night stay discount offer covers an economy one-way airfare from Perth to Christmas Island flying Virgin Australia, for one person. See T&Cs below.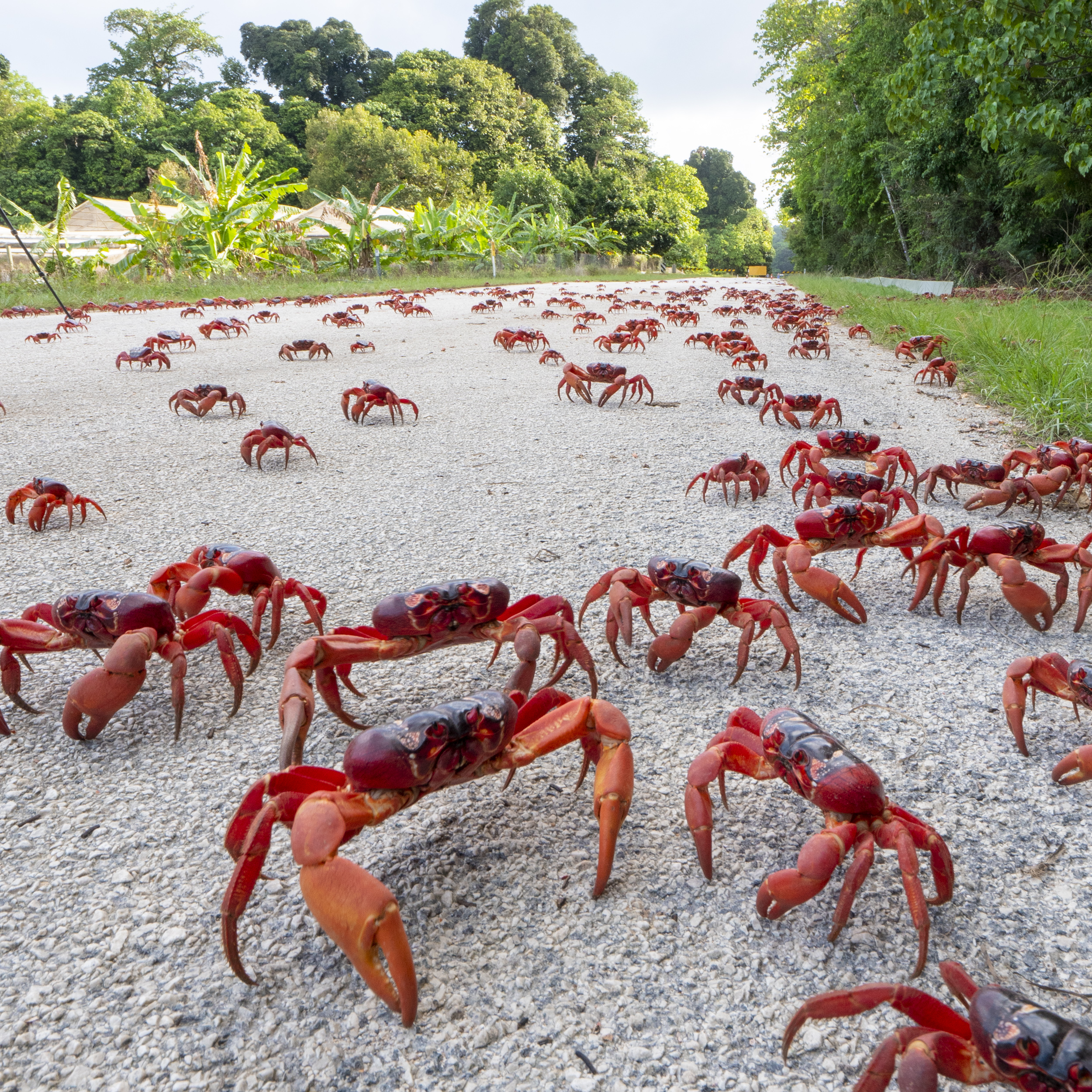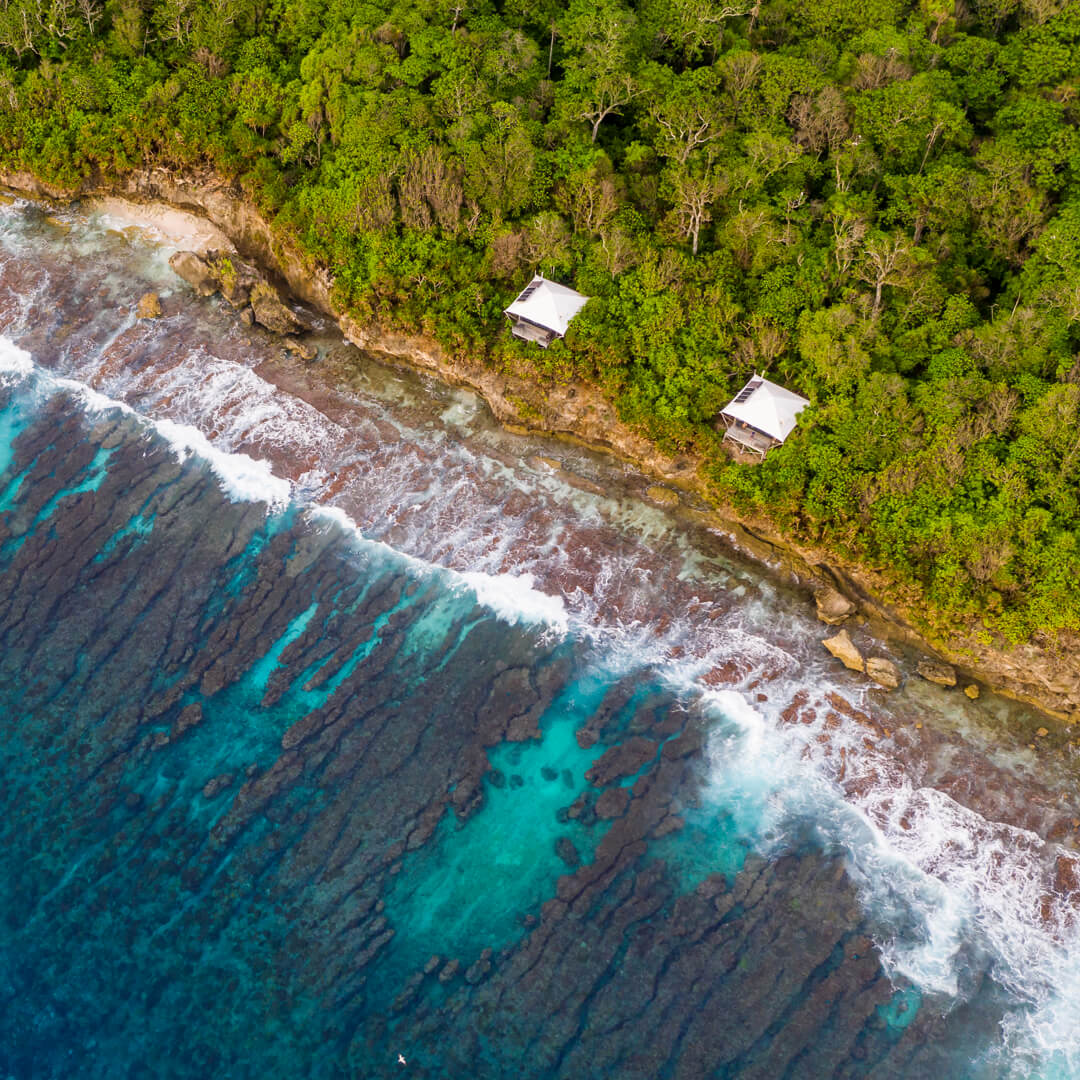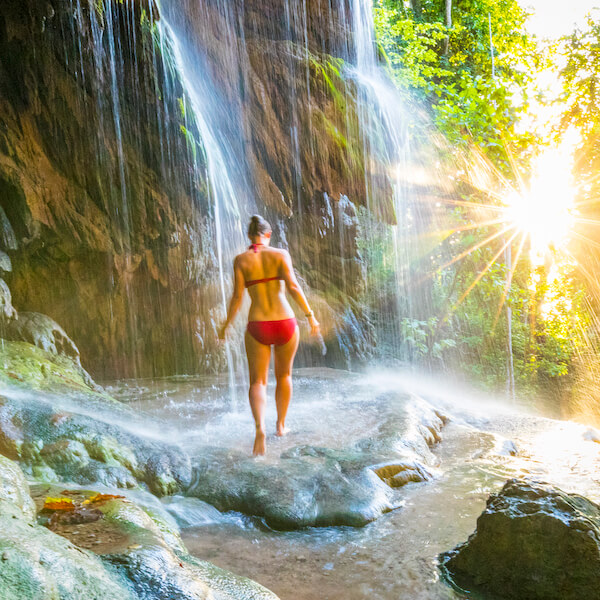 Free Flight Offer Expires in: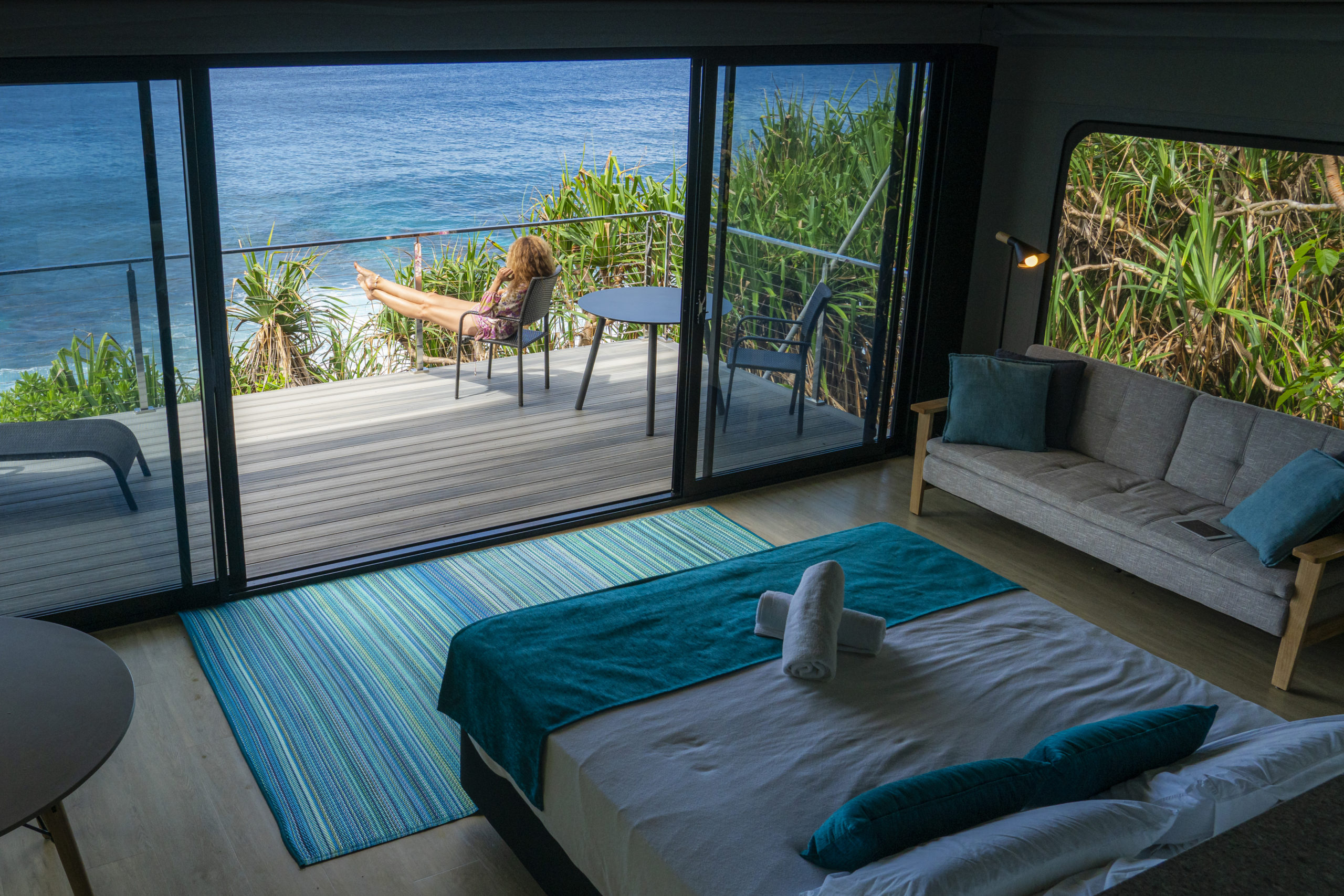 Christmas Island: Your Next Travel Destination
For those seeking a unique and unforgettable travel experience, look no further than Swell Lodge on Christmas Island. This remote Australian territory located in the Indian Ocean offers stunning natural scenery, fascinating cultural history, and a one-of-a-kind ecosystem found nowhere else on earth. With its crystal clear waters, pristine beaches, and lush rainforests, Christmas Island is a paradise for nature lovers and adventure seekers alike and Swell Lodge offers a unique luxury way to experience the whole island.
We've put together this guide to help you plan your next getaway. From how to fly to Christmas Island to insider tips on what to see and do whilst there.
So pack your bags and get ready to discover why Swell Lodge should be at the top of your travel bucket list!
For a list of inclusions and our current nightly rates please visit our booking page.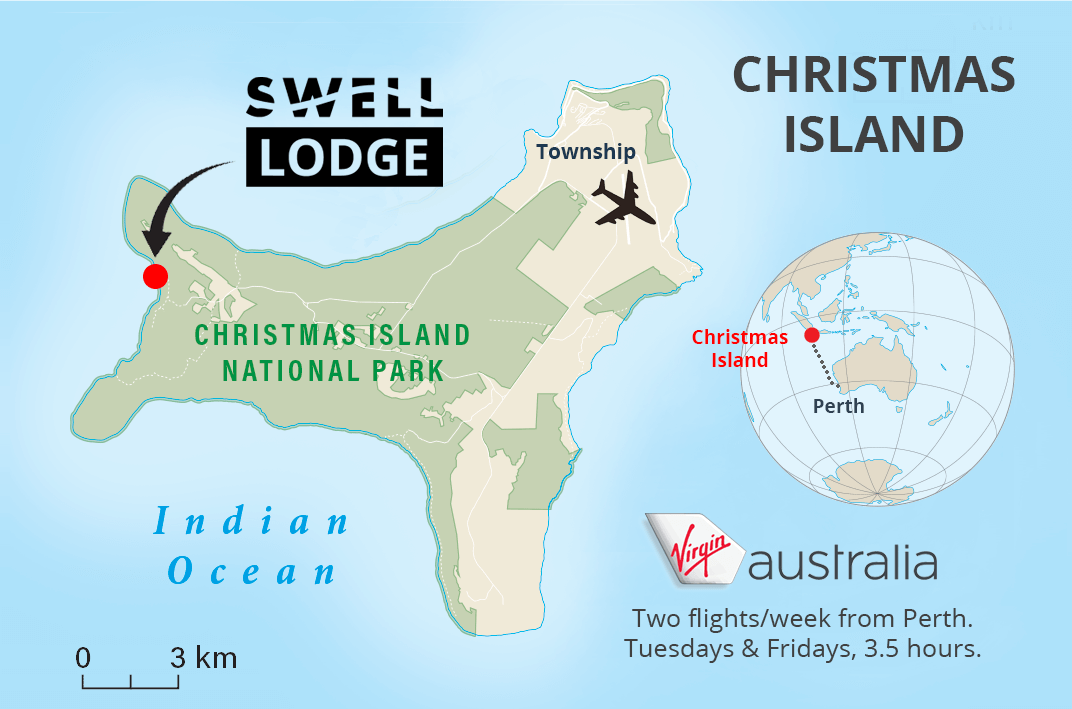 Getting to Christmas Island – flights and transportation
Christmas Island is a remote island located in the Indian Ocean, approximately 1,500 kilometers northwest of Perth, Australia. The island is only accessible by air, and there are limited flights available. The main airline that services the island is Virgin Australia, and flights depart from Perth twice a week. The flight time is approximately 4.5 hours, and the cost of a round-trip ticket can vary depending on the time of year and how far in advance you book, but with our free flight offer for August 2023 you don't have to worry about that!
If you're traveling from outside of Australia, you'll need to connect through Perth before continuing on to Christmas Island. Some airlines, such as Singapore Airlines and Malaysia Airlines, offer connecting flights to Perth from major international airports. Once you arrive on Christmas Island, there are no public transportation options available so our friendly staff will pick you up from the airport and transfer you to Swell Lodge.
When planning your trip to Christmas Island, it's important to keep in mind that flights can be limited, and availability can fill up quickly during peak travel seasons. It's recommended that you book your flights and accommodations well in advance to ensure that you can secure your desired travel dates.
When to book flights to Christmas Island
We have a tropical climate here so the island can be visited year-round. However the best time to visit Christmas Island is between April and November. During this time, the weather is dry and comfortable, with temperatures ranging from 22 to 28 degrees Celsius. The wet season runs from December to March, and while the island is still beautiful during this time, there can be heavy rainfall and potential for tropical storms.
In addition to weather considerations, it's important to keep in mind that some of the island's most popular attractions occur at specific times of the year, such as the annual red crab migration. The red crab migration typically occurs from late October to early December, and during this time, millions of red crabs migrate from the island's rainforests to the coast to mate and lay eggs. If you're interested in witnessing this incredible natural phenomenon, be sure to plan your trip and flights accordingly.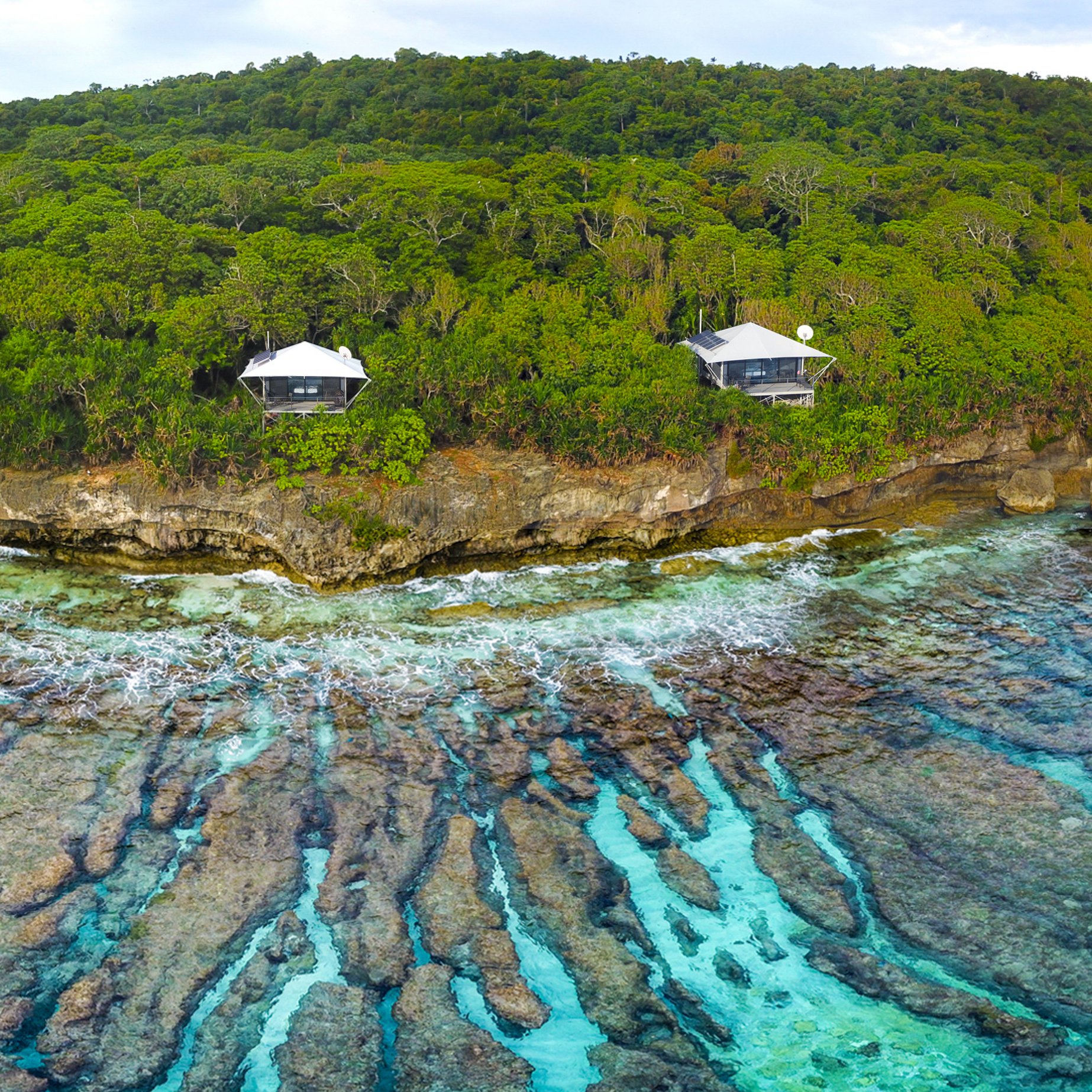 Luxury Christmas Island Accommodation
Swell Lodge is the premier choice on Christmas Island. Our luxury lodges are private and perched right on the cliff-top inside of one of Australia's most unique, wildlife-filled National Parks. Not only do we offer incredible ocean views, but we are one of the world's most exclusive luxury accommodation experiences!
Gaze out over kilometres of uninhabited coastline right from your bed, with seabirds soaring past your deck and your personal chef preparing gourmet cuisine using fresh and locally foraged ingredients. Your all-inclusive Christmas Island holiday experience comes with complimentary transport and daily guided tours right from your eco-lodge to explore all the natural-wonders of this incredible island, as well as all meals, an unlimited bar and more!
Far more than a holiday at your typical Christmas Island hotel or resort, a stay at Swell Lodge's award-winning eco-lodge – be that for a honeymoon, special anniversary trip or just an unforgettable holiday – is like nothing else on Earth.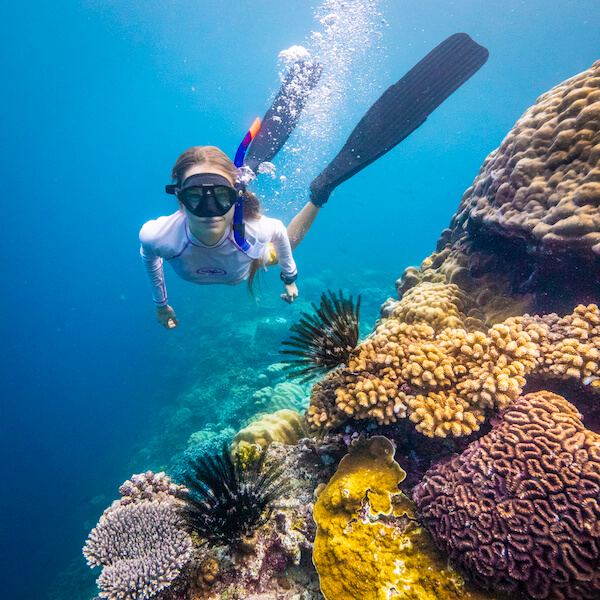 Things to do on Christmas Island
One of the main reasons people fly all the way to Christmas Island is to see it's stunning natural beauty, wildlife and unique ecosystem. The island is home to a variety of endemic species, including the Christmas Island red crab, the Abbott's booby, and the Christmas Island frigatebird. Visitors can take daily guided tours with our experienced Swell Lodge guides to see these incredible creatures and their island.
In addition to tours, there are also a variety of outdoor activities to enjoy on Christmas Island. The island's crystal clear waters offer excellent snorkeling and diving opportunities, with colorful coral reefs and an abundance of marine life to discover. The island also has several stunning beaches, including Dolly Beach and Greta Beach, which are perfect for swimming and sunbathing.
For those interested in learning about the island's culture and history, there are museums and historical sites to visit. The Christmas Island Museum offers exhibits on the island's mining history and cultural heritage, while the Tai Jin House provides insight into the island's Chinese heritage.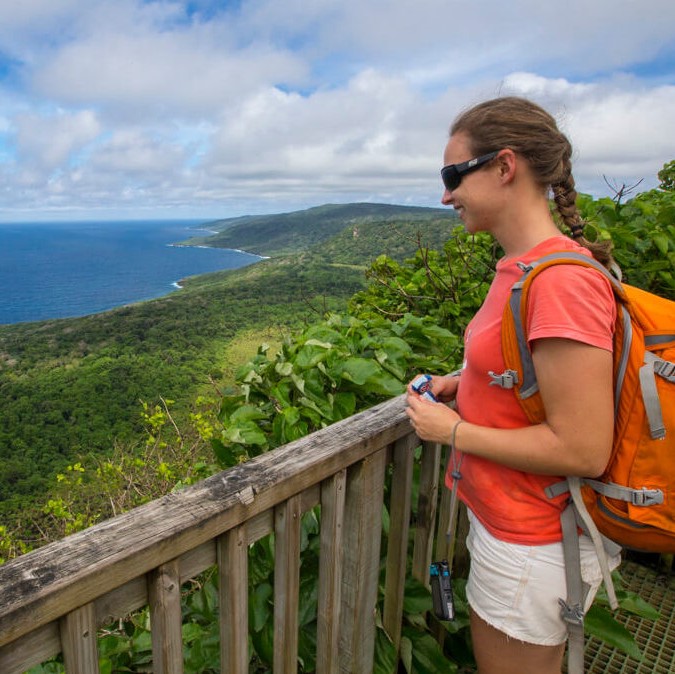 Christmas Island Travel Tips
When flying to Christmas Island, it's important to keep in mind a few key tips to ensure a smooth and enjoyable trip. First and foremost, Christmas Island is a territory of Australia, so international visitors will need a valid visa to enter Australia. If you're Australian you won't need a visa. However, when coming from overseas it's recommended that you apply for your visa well in advance of your travel dates to avoid any last-minute complications.
In terms of currency, the Australian dollar is the official currency of Christmas Island. While there are some ATMs on the island, it's recommended that you bring enough cash with you to cover your expenses, as some businesses may not accept credit cards.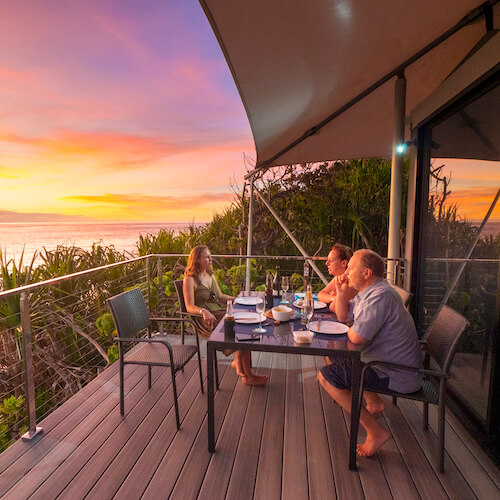 The only dining option on the island you will need is your personal chef at Swell Lodge who will prepare all your meals and even picnic lunches for you according to your dietary requirements. Your experience at Swell Lodge is all-inclusive, which means beautiful gourmet food and unlimited drinks. 
When it comes to food elsewhere, Christmas Island offers a unique blend of flavors and influences from its diverse cultural heritage. Some of the island's most popular dishes include laksa, a spicy noodle soup with coconut milk and seafood; nasi lemak, a traditional Malay dish made with rice, coconut milk, and spices; and fresh seafood, including lobster, crab, and fish.
"Life is too short to miss Swell Lodge. Falling asleep with the stars and the ocean, delicious meals, amazing tours and knowledgeable staff made it beyond brilliant. Our souls are richer for our visit to Christmas Island."
Free Flight Offer Expires in:
The free flights to Christmas Island offer is valid for new bookings only and the amount will be discounted after a booking is made and the deposit is paid. Regular Booking T&Cs Apply
Special Offer Terms & Conditions
This special deal is for Swell Lodge bookings made after 15th May 2023, for stays of 4 or 7 nights between 1st August and 30th November 2023, and the 'free airfare' is realised as a discount, as follows:
7 night bookings are eligible for a $1,250 AUD discount (which more than covers a 'Choice' fare for economy return airfare from Perth to Christmas Island flying Virgin Australia, for one person).
4 night bookings are eligible for a $650 AUD discount (which more than covers to a 'Choice' fare economy one-way airfare from Perth to Christmas Island flying Virgin Australia, for one person).
Please note the total discount for your Swell Lodge booking are the amounts specified above, irrespective of the number of guests traveling, or the individual cost of airfares purchased. Should you have any questions in regards to this discount, please don't hesitate to contact our friendly Swell Lodge team.
The guest is responsible for booking and paying in full for their own flights themselves, the above discount will apply to their final payment for their Swell Lodge booking, and only if the guest specifically mentions in their booking comments that they have seen this promotion and would like to accept it. The discount will not be visible during the automated booking process, but after booking deposit is made, the discount will be manually subtracted from the total amount owing when we review the booking and email the final bill.
This special offer is only valid for direct bookings, made via the Swell Lodge website.
Guests should check flight availability prior to booking. No guarantee is made that any 'Choice' fare price tickets (or any tickets) are available for your selected dates – guests need to handle all flight-related matters themselves.
Our regular booking Terms & Conditions still apply, and, as always, we strongly recommend travel insurance for visits to Christmas Island. 
We look forward to having you stay with us on our beautiful island home!