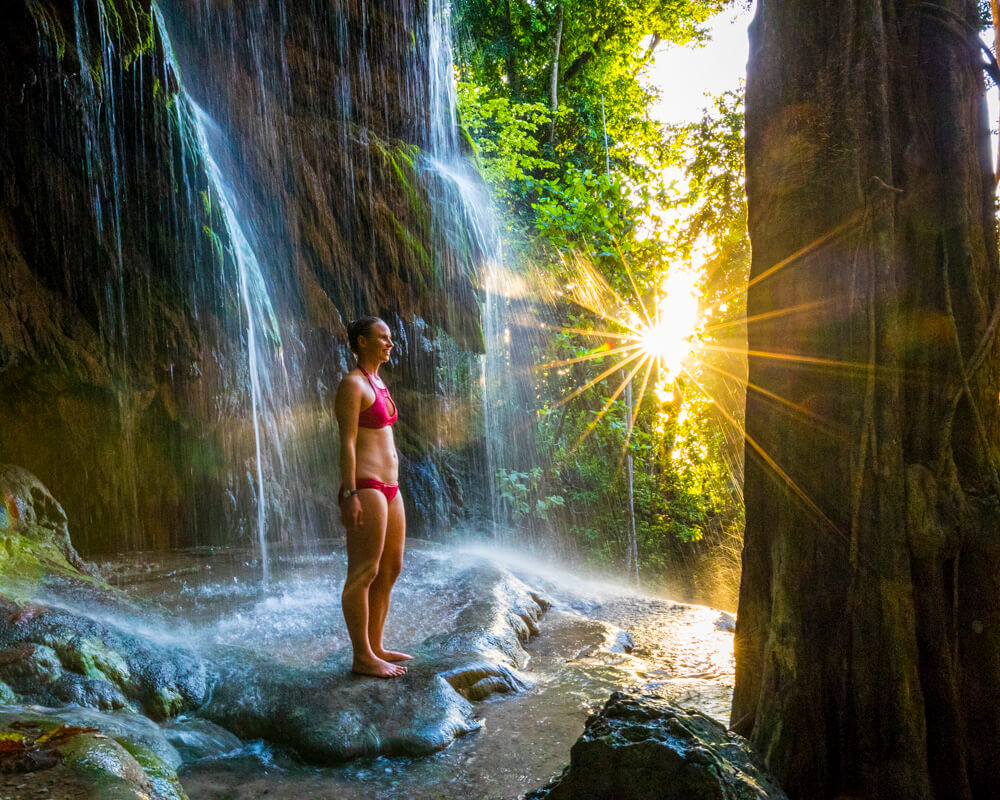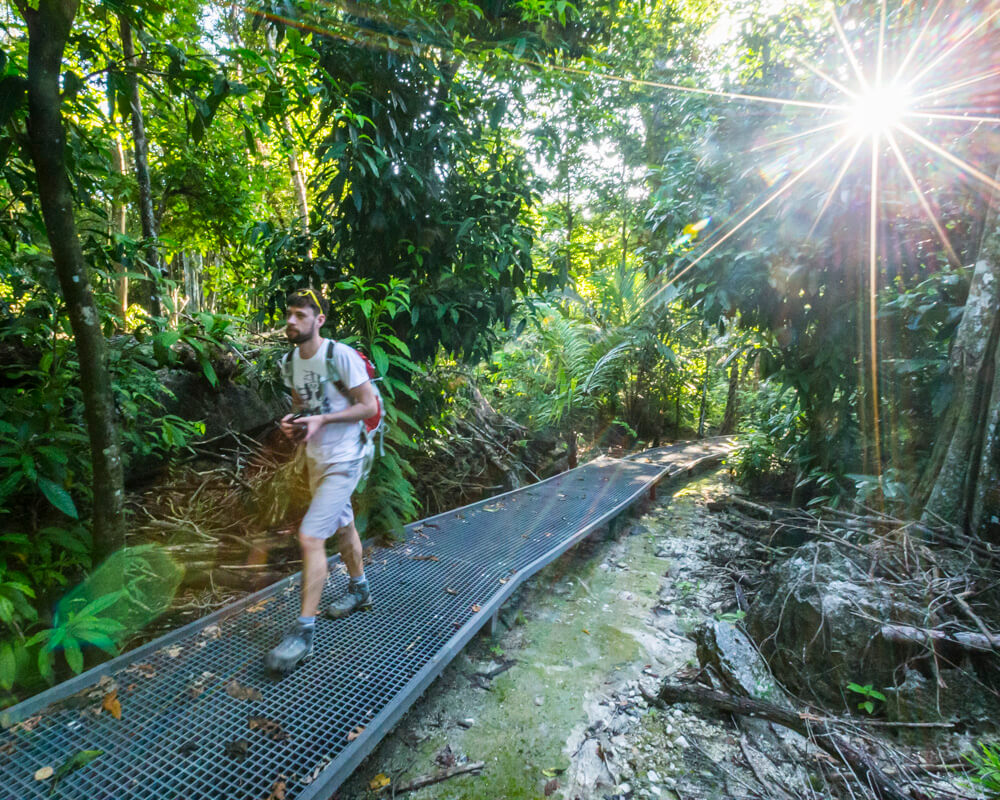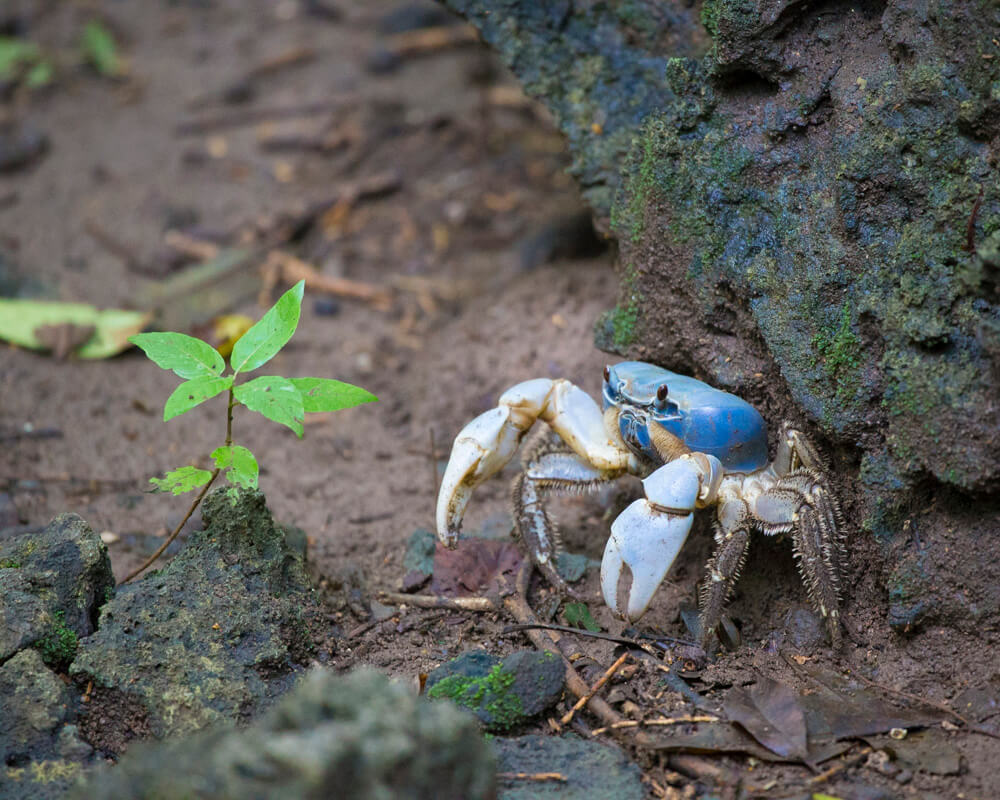 Hughes Dale Waterfall
RAMSAR wetland
 boardwalk
Walkable from Swell Lodge, The Dales walking trails are Australia's first RAMSAR recognised wetland and are among Christmas Island's most iconic attractions. A beautiful modern boardwalk through this section of the tropical rainforest takes you through a number of pristine, permanent watercourses. Busy with a variety of crab species and adorned by stands of enormous, buttress-rooted Tahitian chestnut trees, the 1.5km (30min) trail and boardwalk leads to a spectacular waterfall.
A guided walk to Hughes Dale Waterfall is included in all our packages.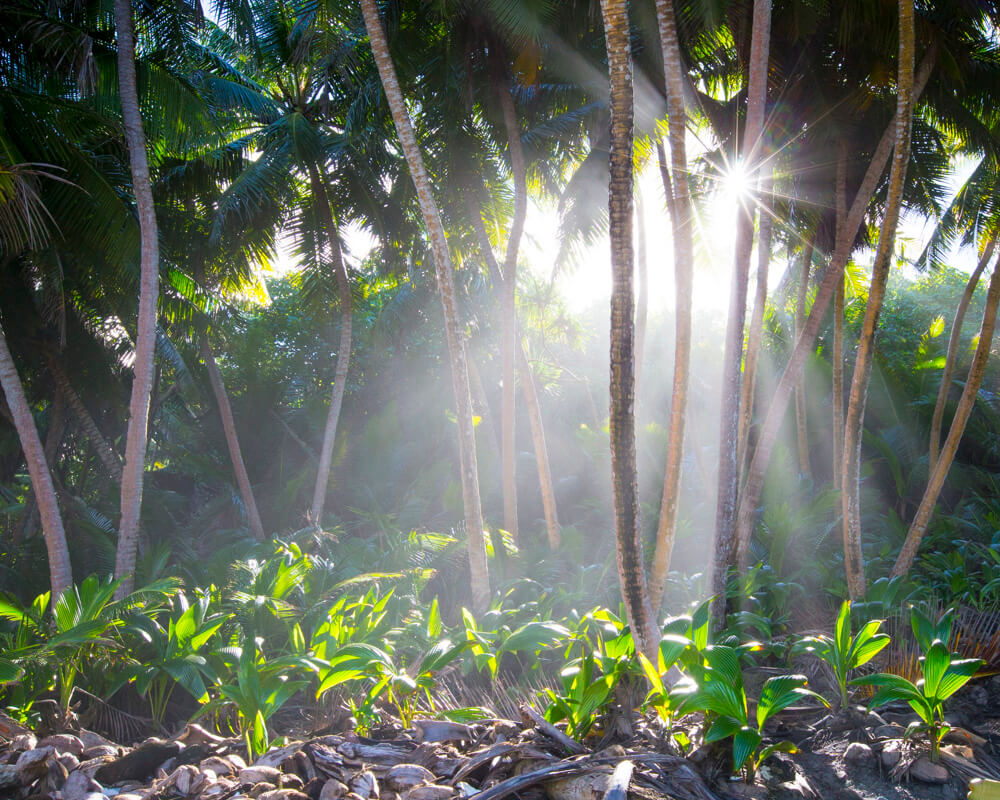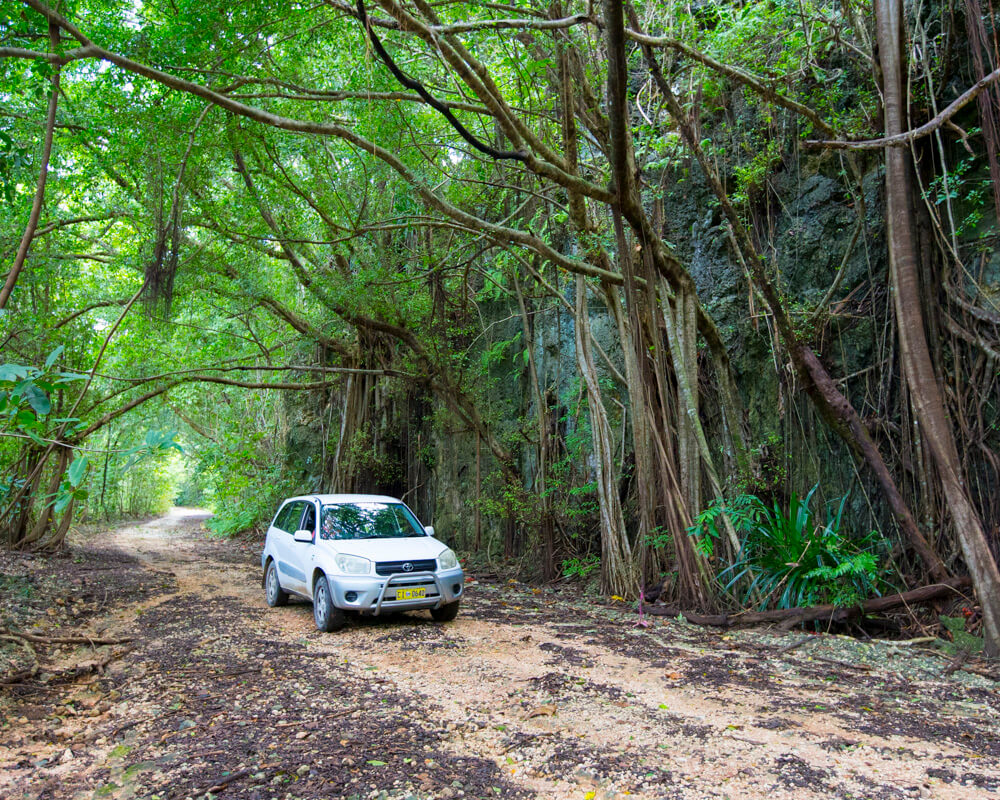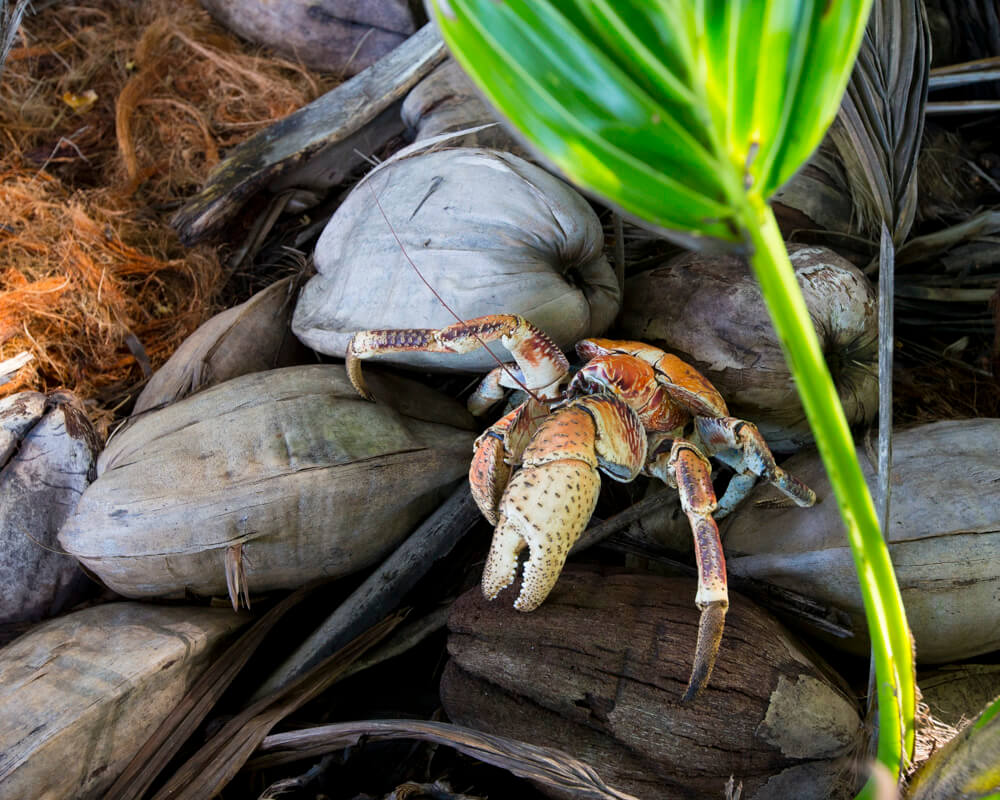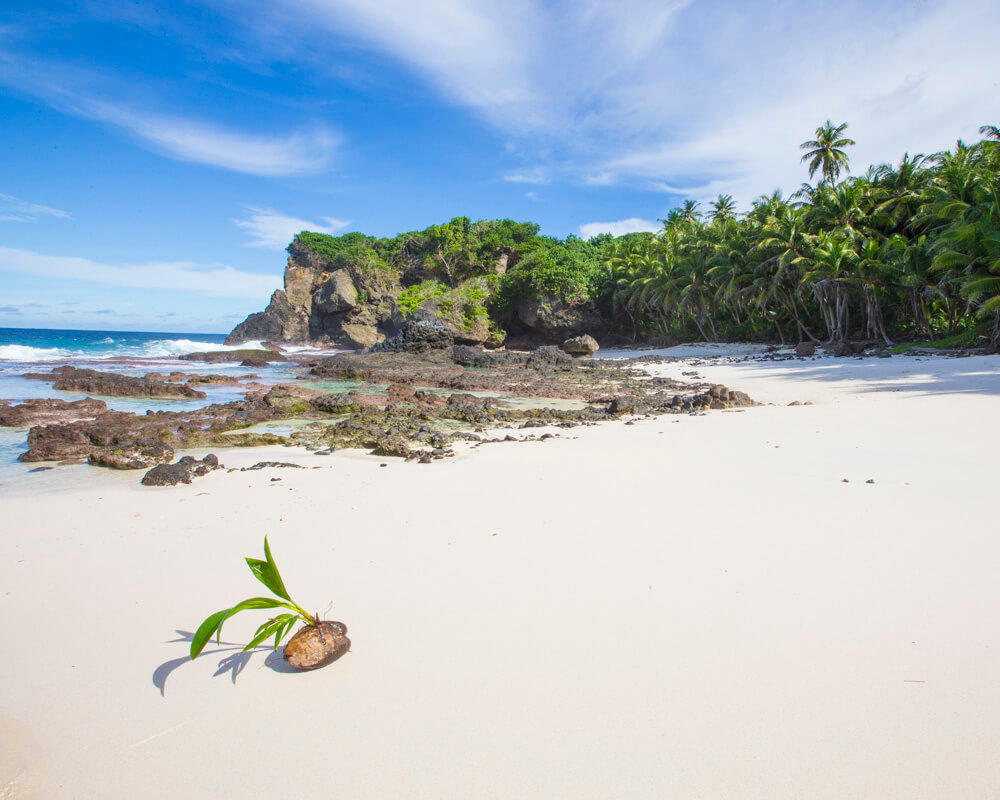 Dolly Beach
Sand / Sun / Coconuts
Officially ranked as Australia's 7th best beach in 2016, Dolly Beach is one of the prettiest and most secluded beaches on Christmas Island. Rimmed by coconut palms and deserted most of the time (except for resident coconut crabs), Dolly Beach features a beautiful stretch of  white sand, a fresh water stream  and even a tidal rock pool to swim in. Turtles nest on the beach year-round, too – look for the tracks of nesting adults and emerging hatchlings amongst the driftwood and coconuts. Half the fun of visiting Dolly Beach is the 2km boardwalk in, passing Pandanus forests, amazing rock formations, and many different species of crabs including the prolific blue crabs, red crabs and robber crabs and possibly even be followed by our curious resident thrushes.
A guided walk to Dolly Beach is included in our 7 night packages, however can be enjoyed during our 3 & 4 night package as an optional extra.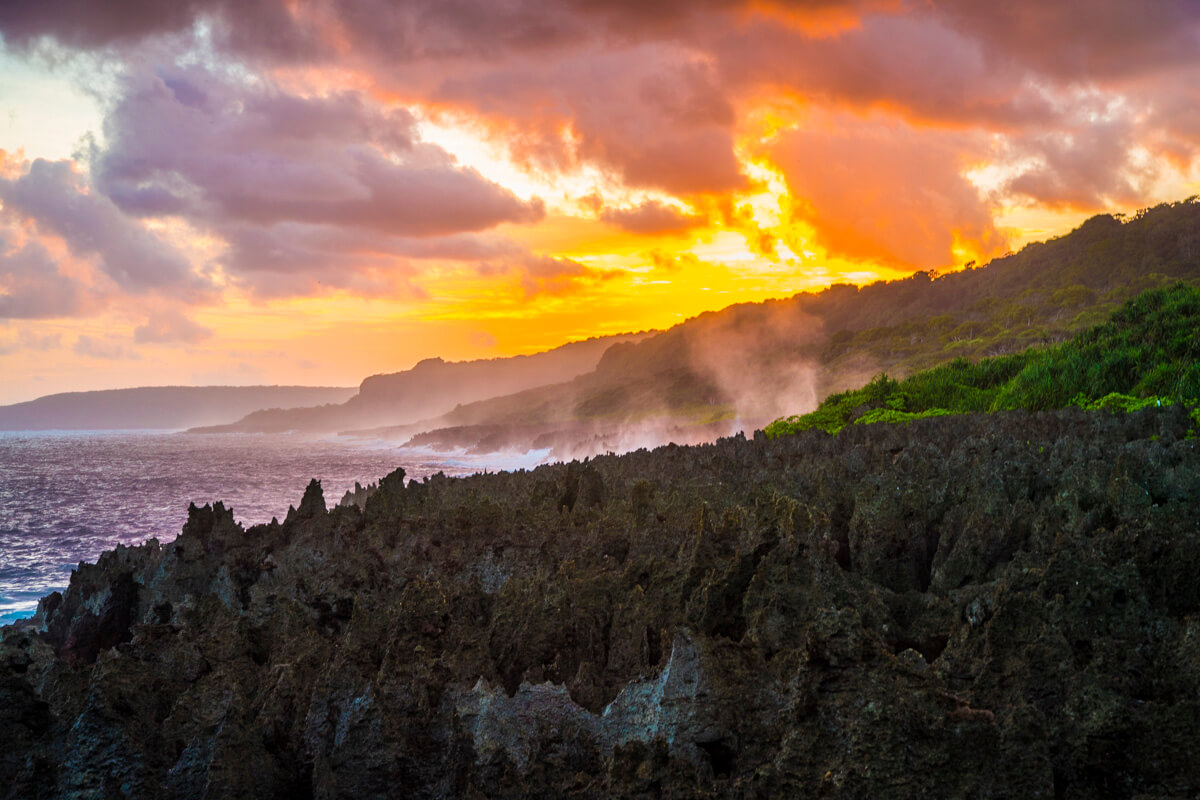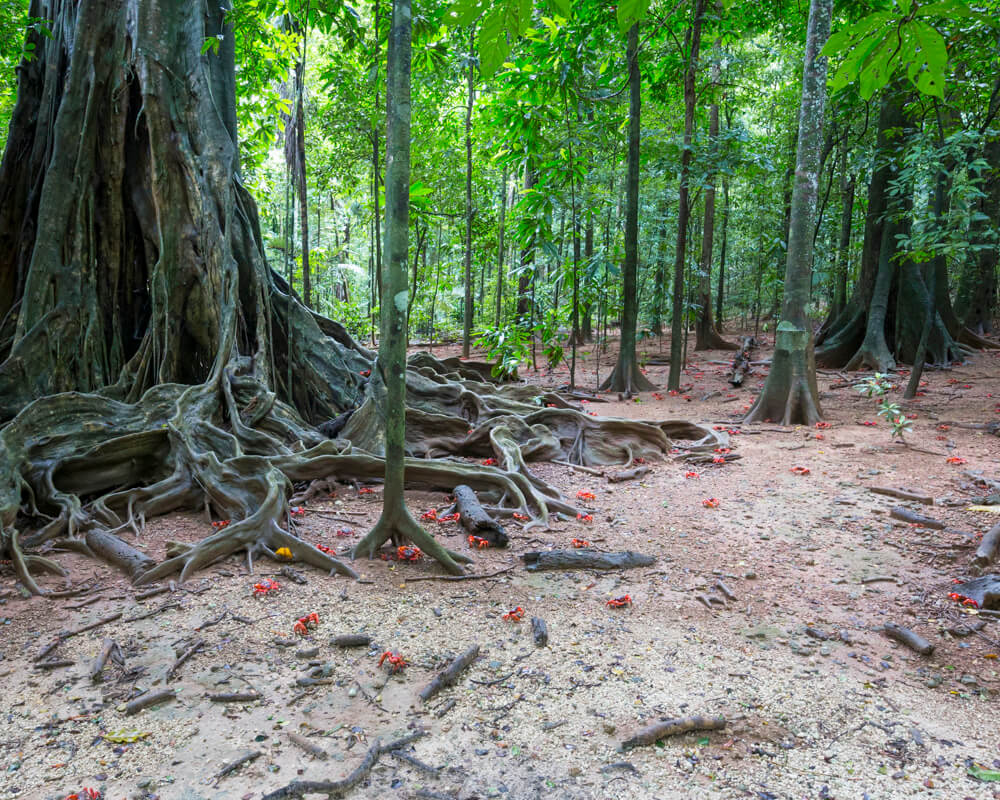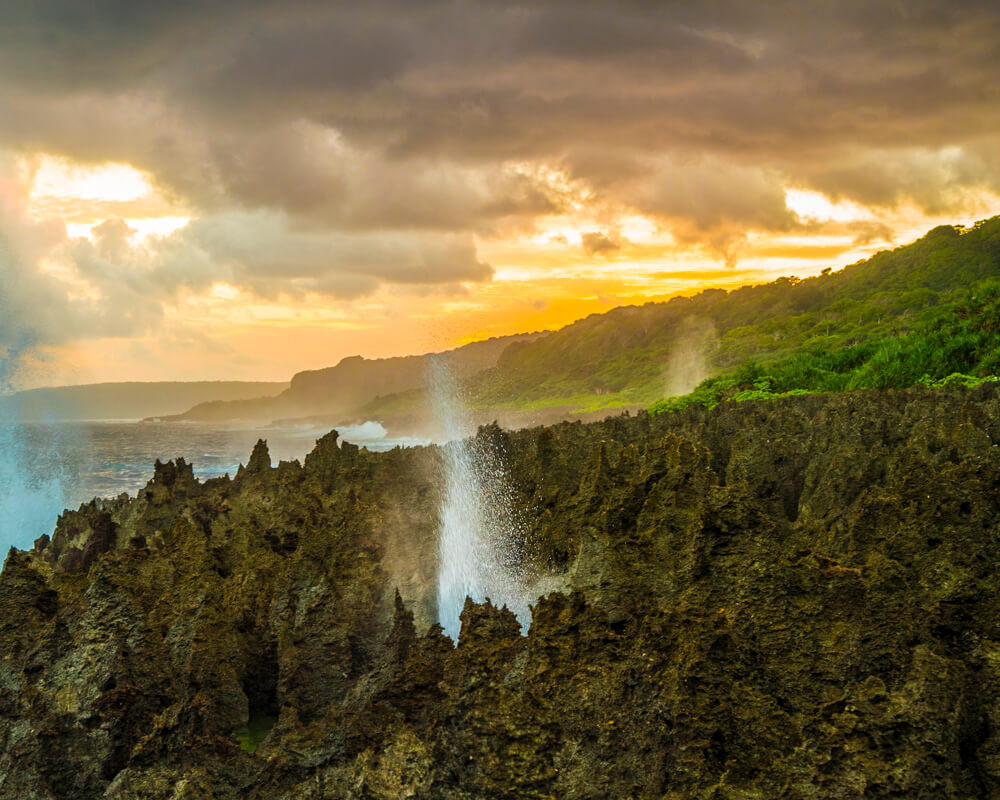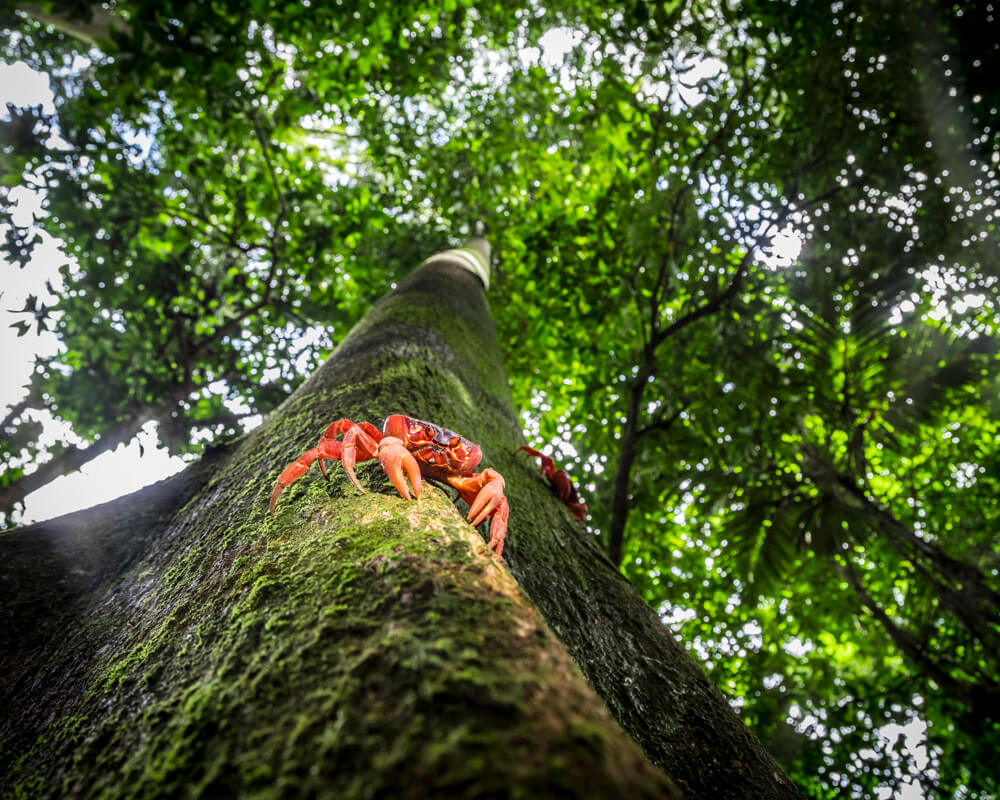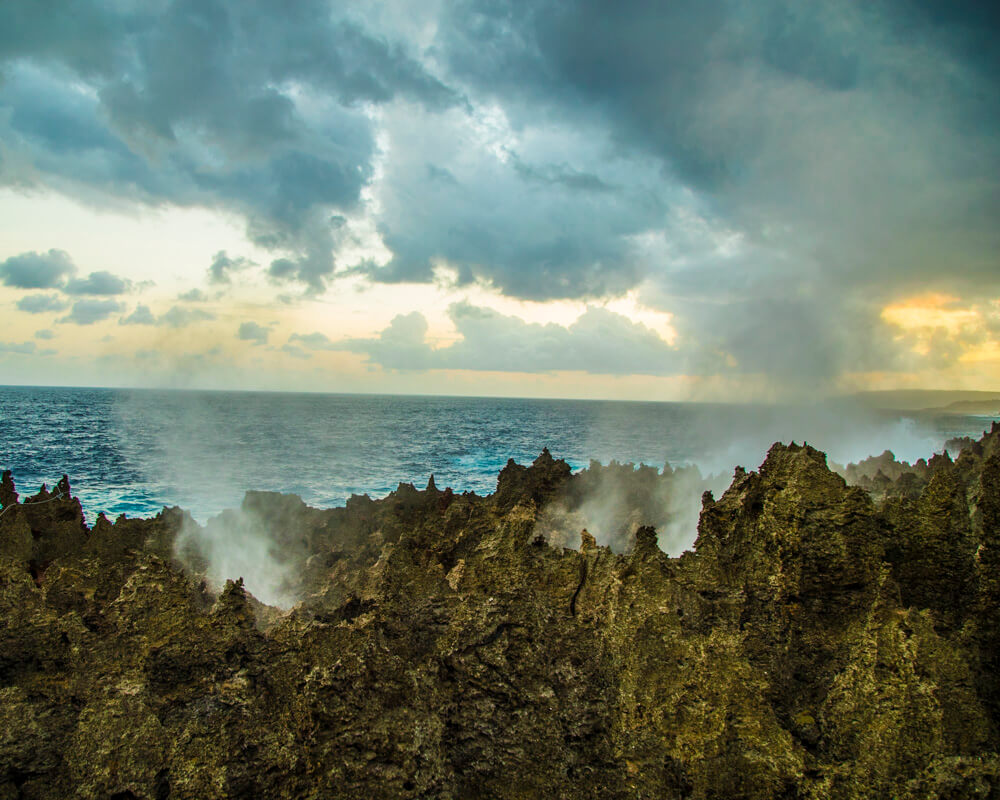 Blowholes
Feel the power
Even the drive to the blowholes is worth the excursion as enroot we'll stop at the most majestic strangler fig on Christmas Island. Red crabs will be crawling around its buttressed roots, the vibrant green moss covering will sparkle like an emerald in the forest and the brave can even climb inside the huge hollow interior and gaze right up through the lattice structure of this magnificent tree! As we drive closer to the Blowholes you'll hear the roar of the ocean being ejected through the narrow tunnels in the limestone rocks, and stepping out at the start of the short boardwalk and viewing platform - depending on what the ocean swell is doing - the sheer power of this spectacle really hits home. With a thundering roar, explosive spouts of water can erupt up to 20 metres into the air from dozens of hidden holes simultaneously all along this panoramic, rugged southern coastline of our island.
A guided walk to the blowholes is included in all our packages.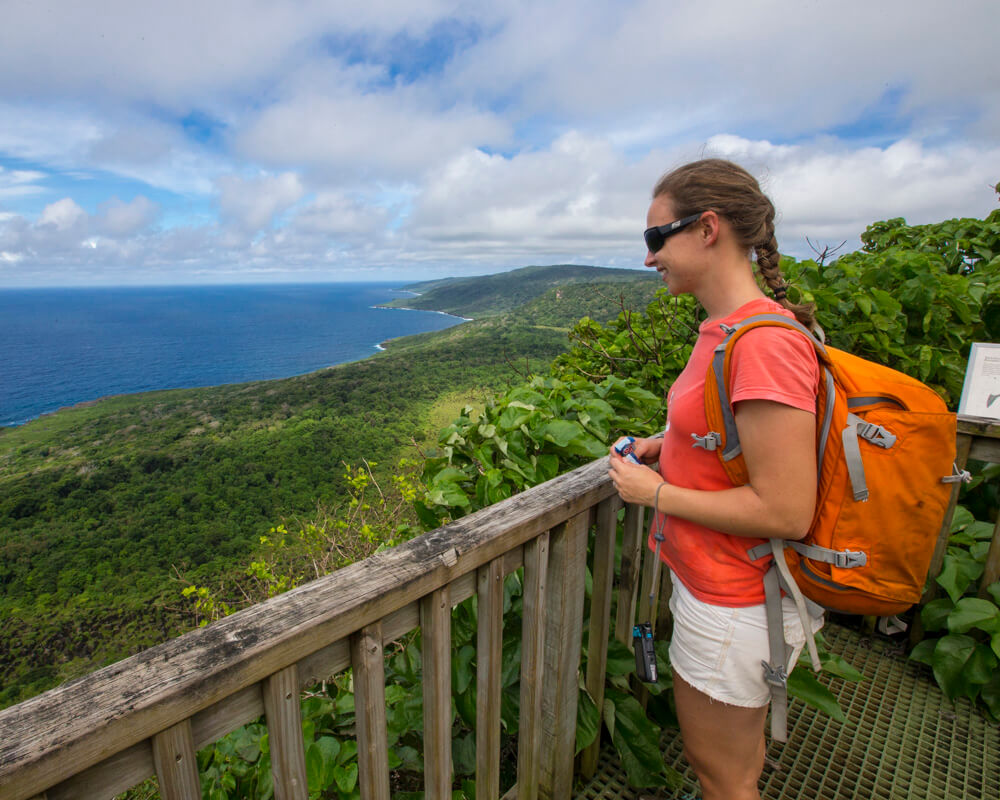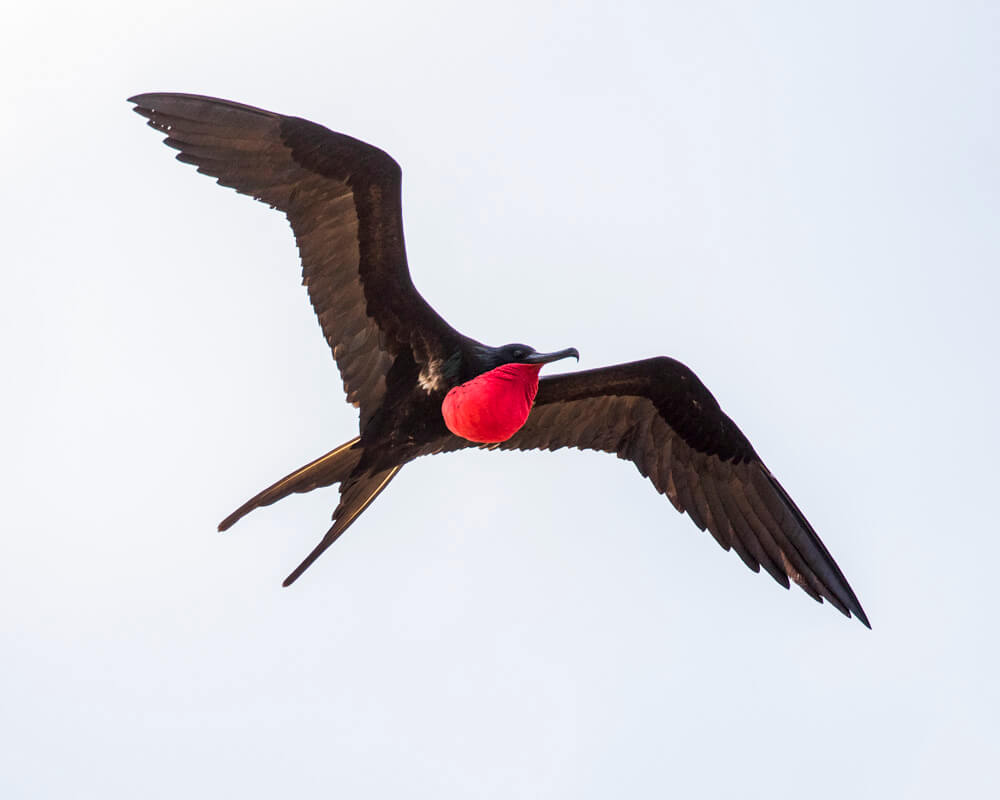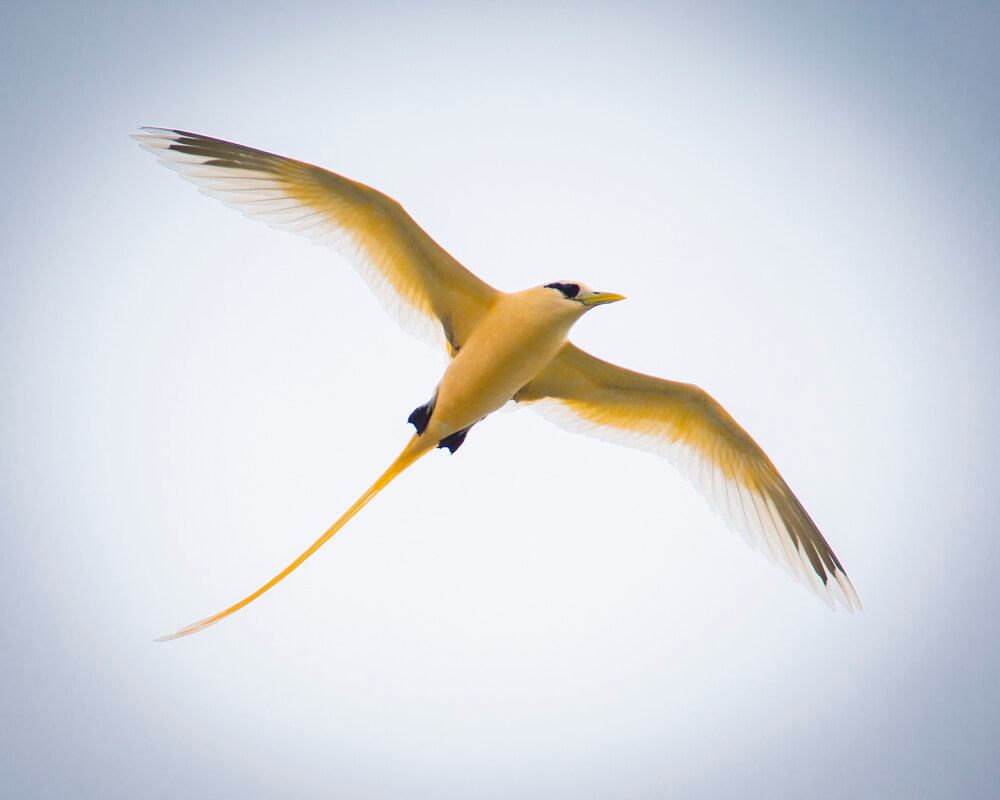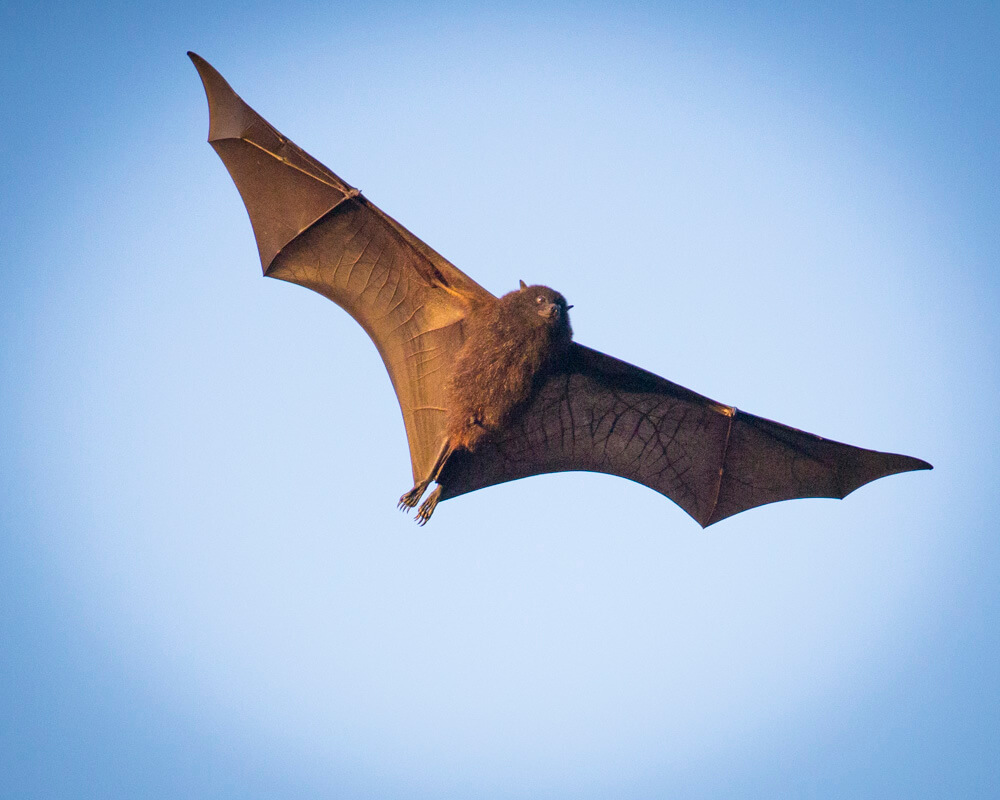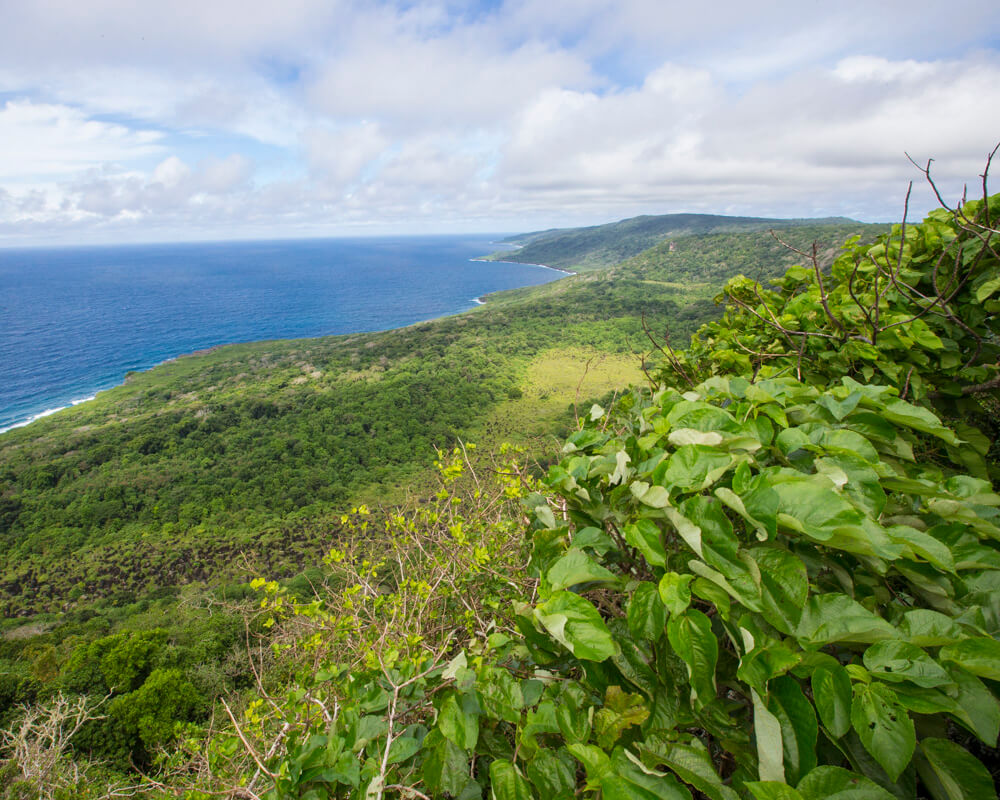 Margaret Knoll
Bird's eye view
A short drive through plateau forest leads to a 50m boardwalk to Margaret Knoll Lookout where many of Christmas Island's varied bird species soar past at eye level and you'll have a breathtaking panoramic views out over much of the island's east coat.
A guided walk to Margaret Knoll Lookout is included in all our packages.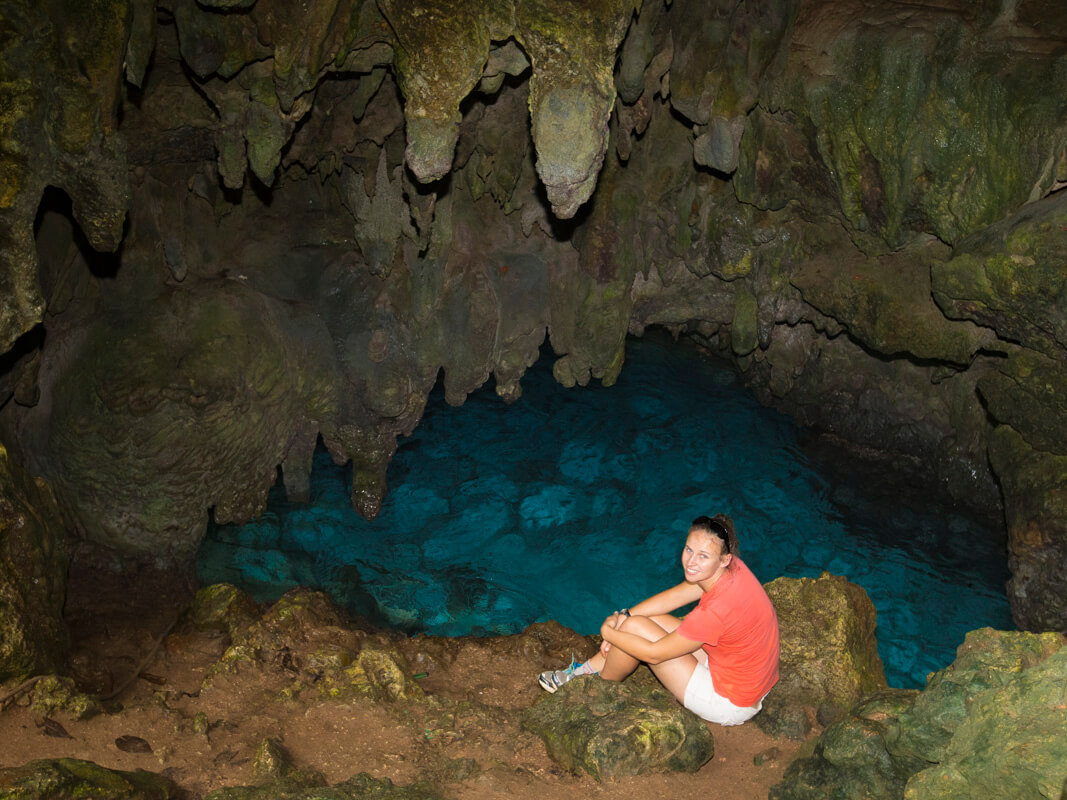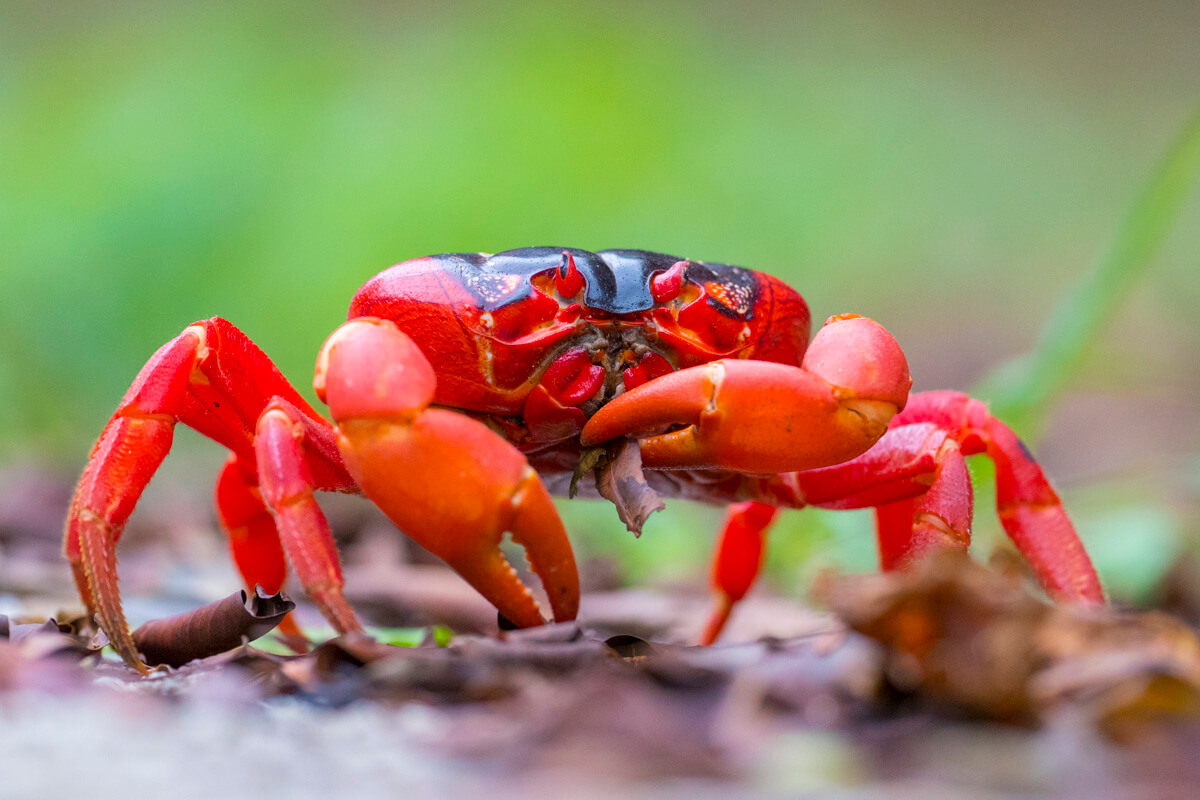 The Grotto
Secret Cave Swim
Down a 100m crab-covered walking track just out of town you'll reach the mouth of 'The Grotto' – a wonderfully secluded, flooded cave opening, with a white sandy bottom and glowing blue water. The rise and fall of the ocean swirls through it like a refreshing, jungle-wrapped spa and it's also nicely chilled from an underground freshwater stream - so make sure you bring your swimmers. This is a magic experience not to be missed!
A guided walk to The Grotto is included in all our packages.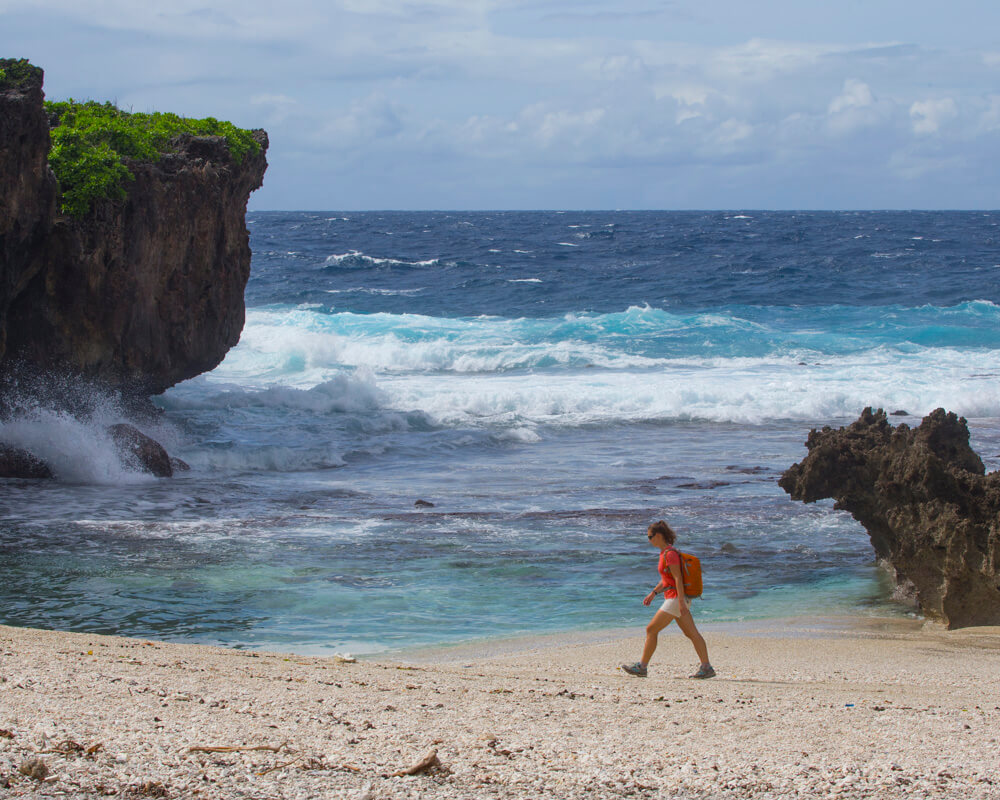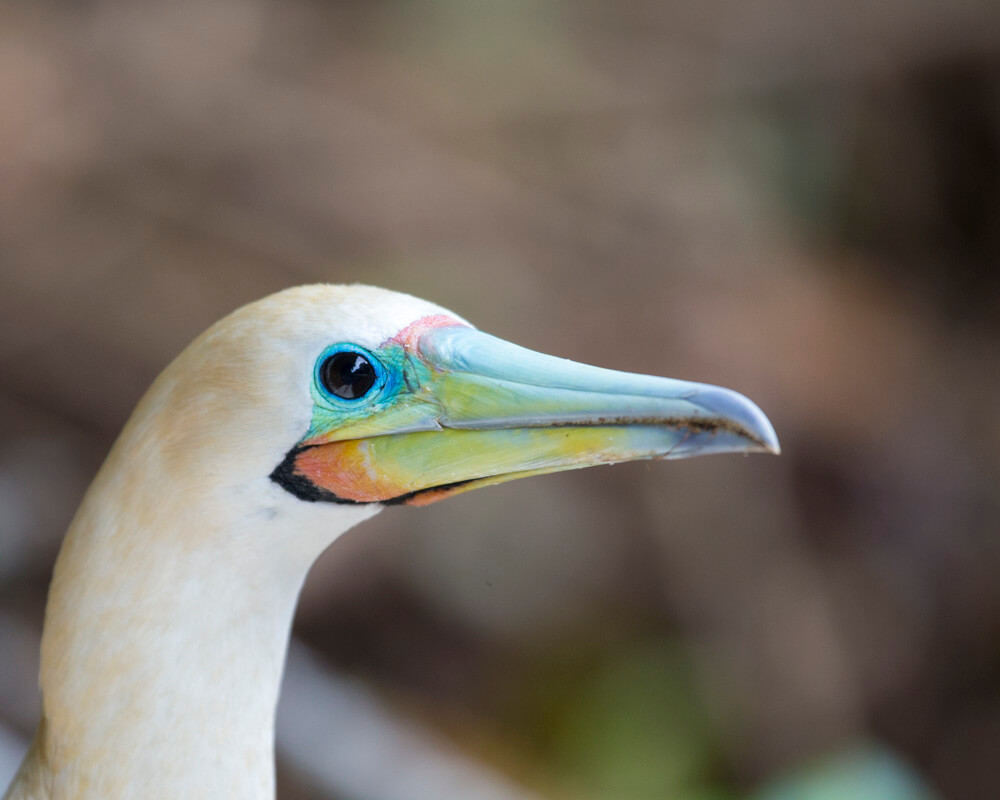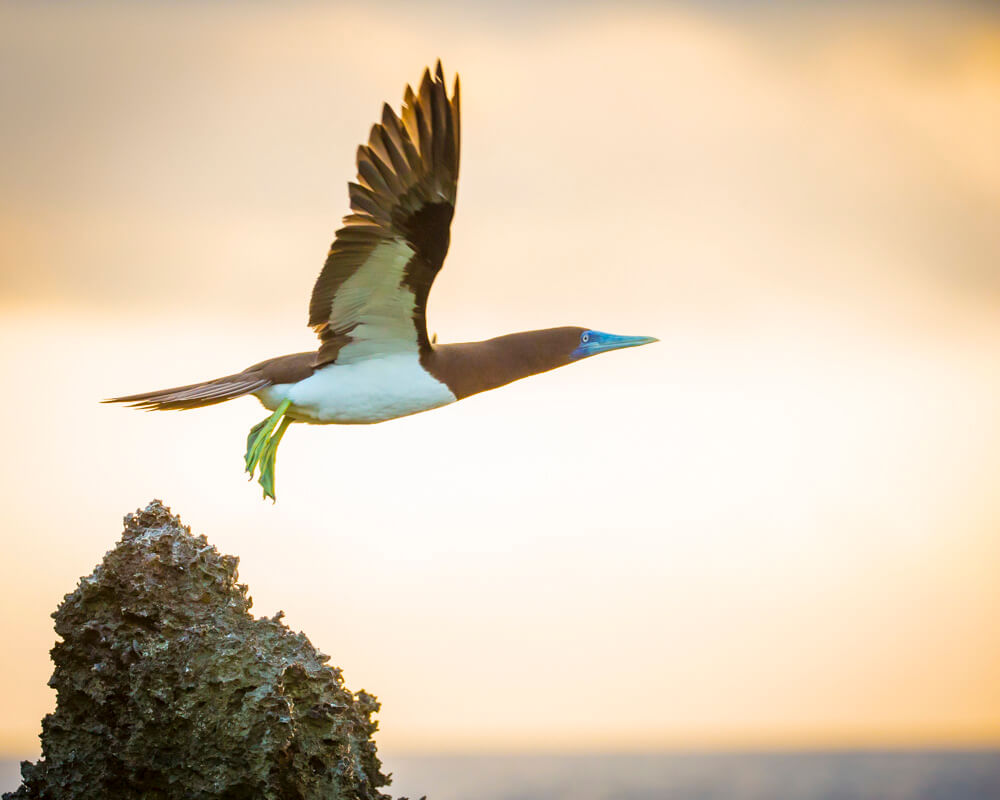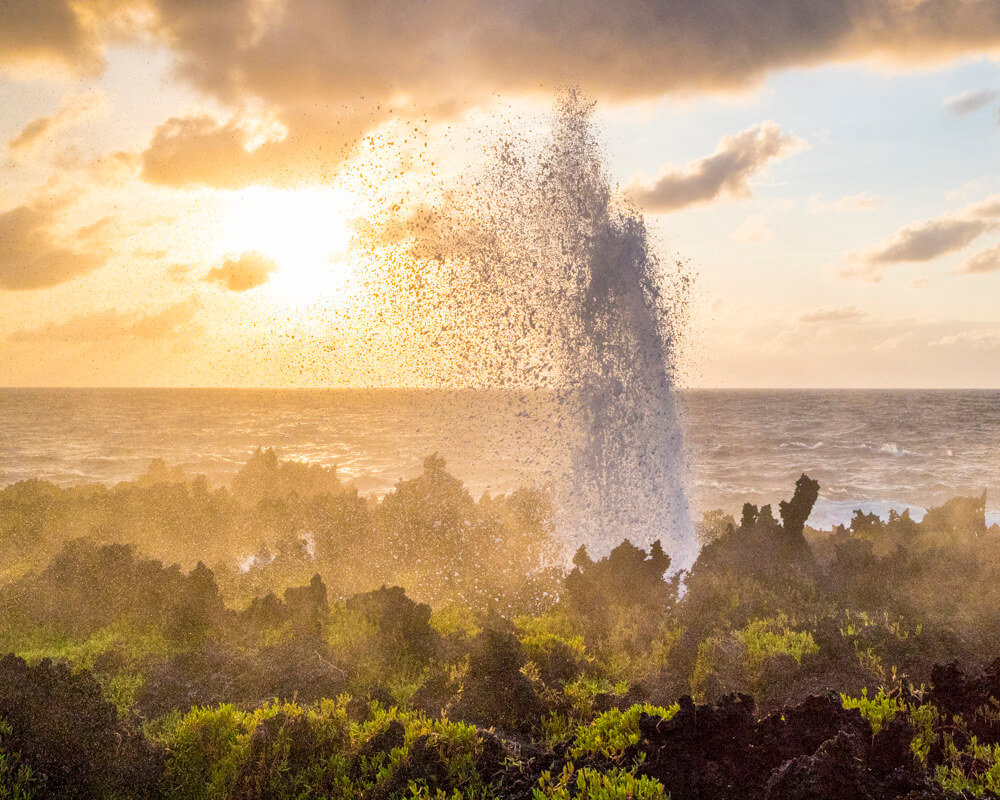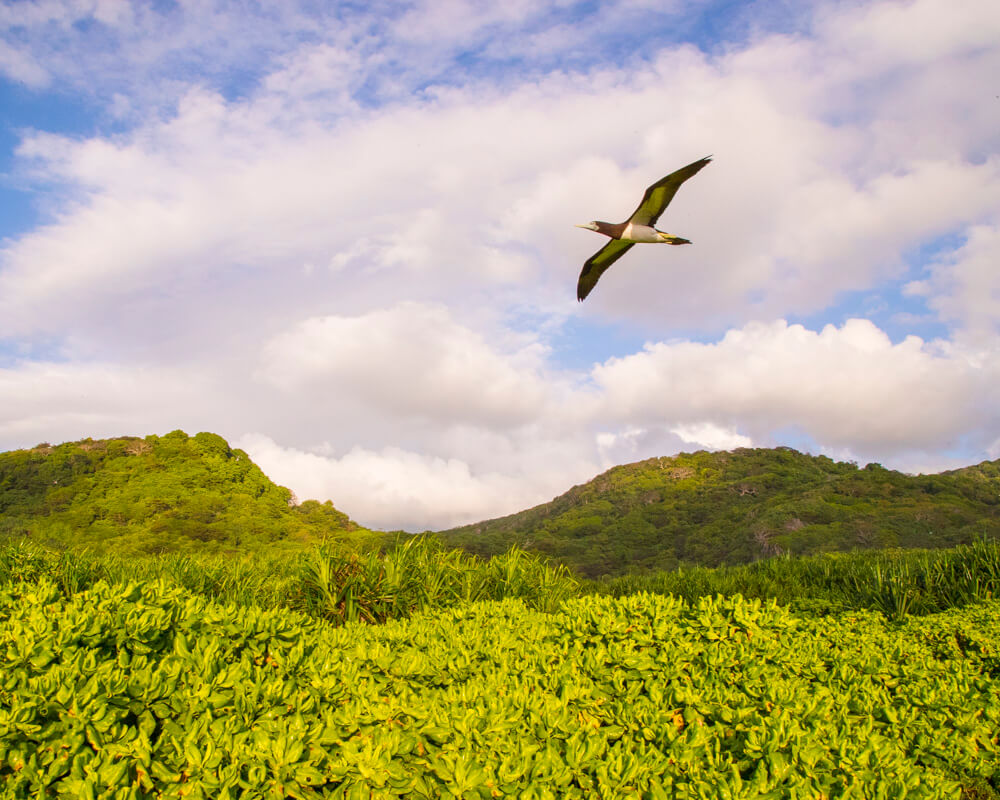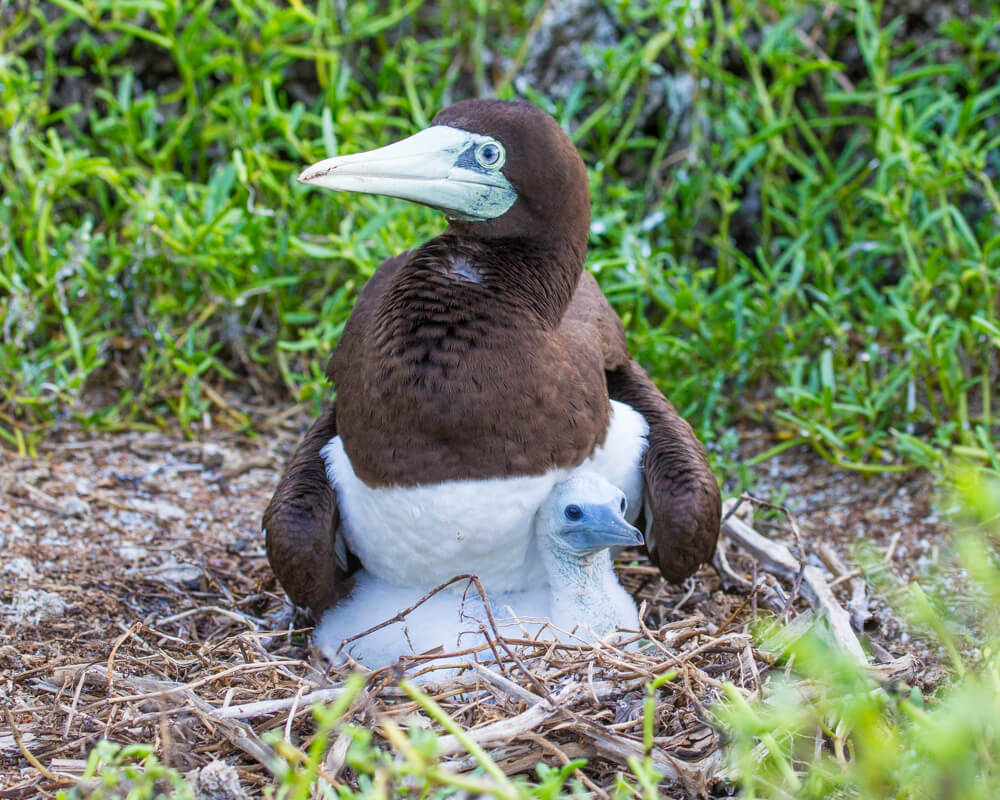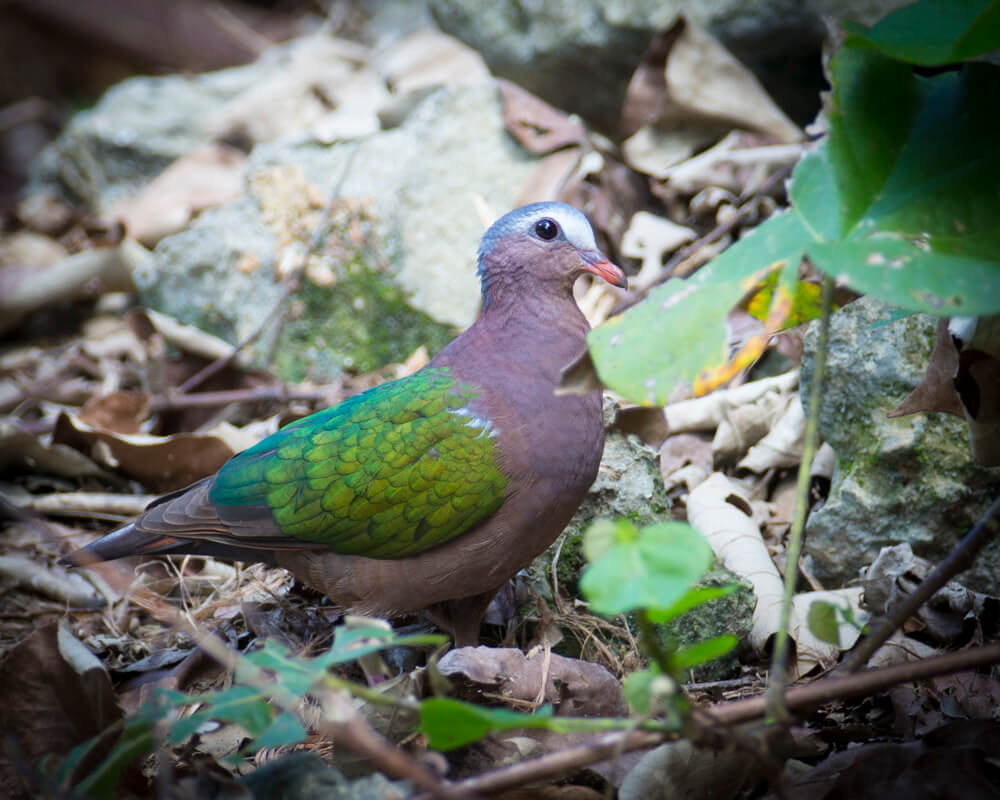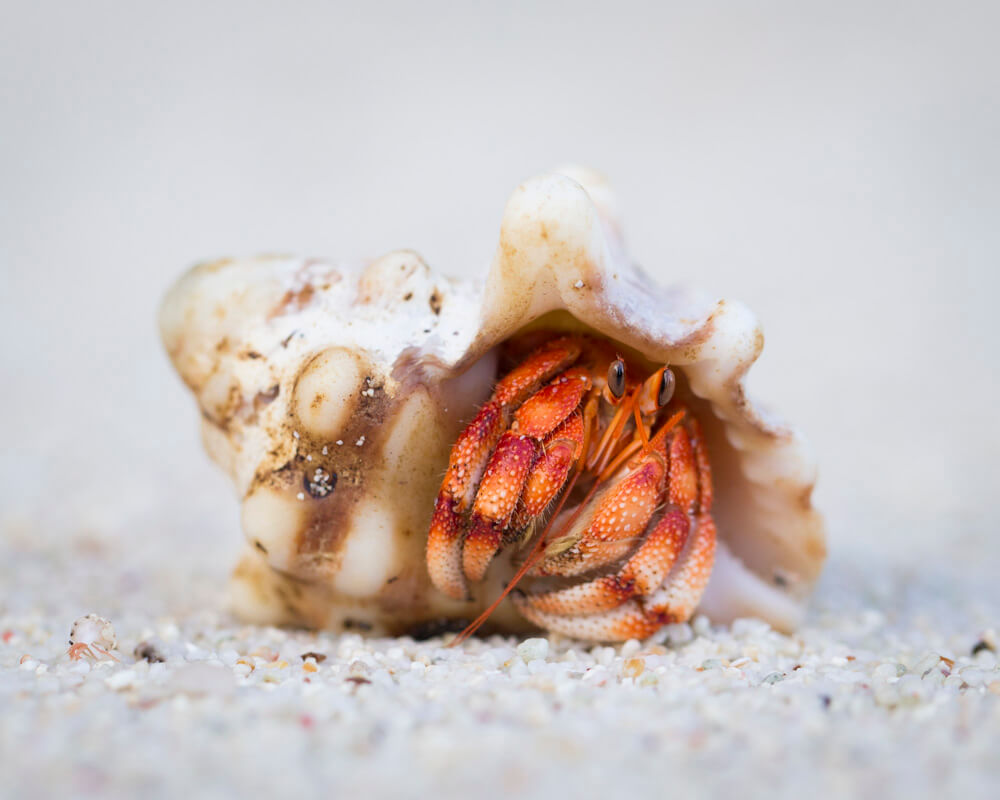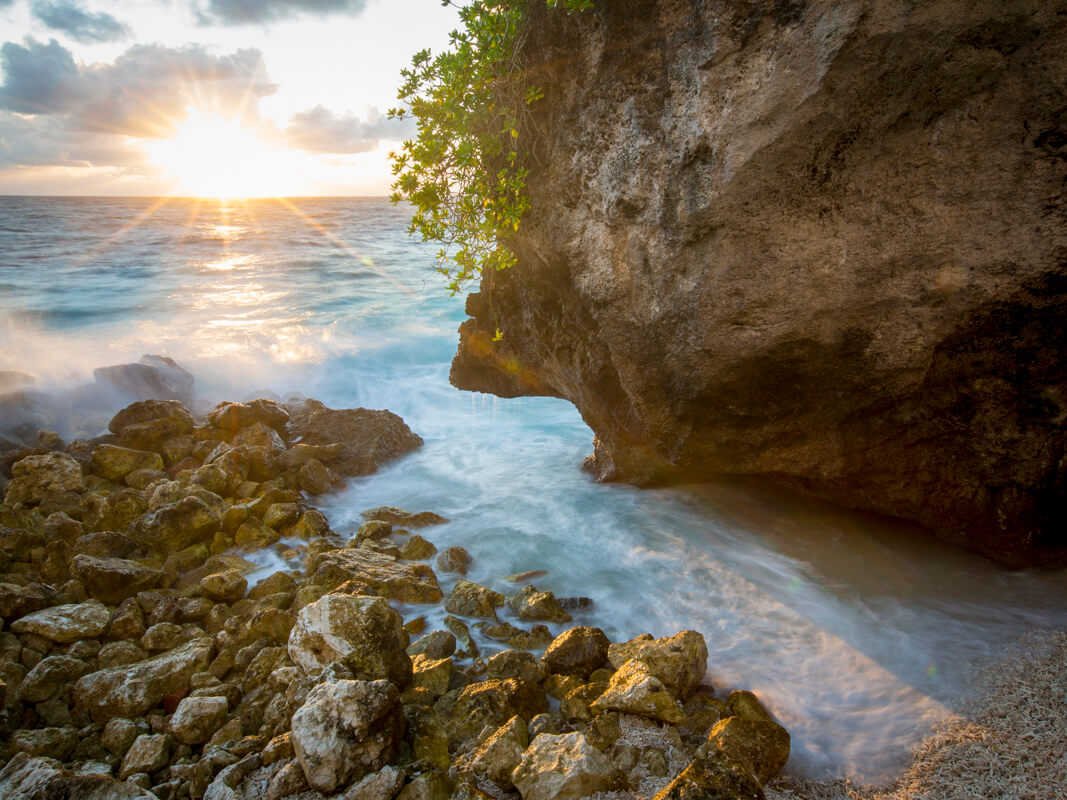 Lilly & Ethel Beach
Birds / Beaches / Swim
Nestled between two jagged rocky headlands, the pure white sand of Lilly Beach was formed by centuries of coral rubble being tumbled by the waves. At the car park, a boardwalk leads onwards towards Ethel beach. It's only about 1km long but there's so much to see that it's easy to spend an hour or more enjoying this walk. Weaving through the pandanus and cabbage trees keeping an eye out for iridescent yellow locusts and delicate butterflies, you'll pass a headland favoured by nesting Brown Boobies and tropic birds, then down a staircase to Ethel Beach - an absolutely beautiful slice of paradise. Hermit crabs are easy to find against the rocky cliffs, or you might even spot a red-footed booby or frigatebird nesting at eye-level.
A guided walk from Lilly to Ethel Beach is included in our 7 night package and is an optional extra for our 3 or 4 night packages.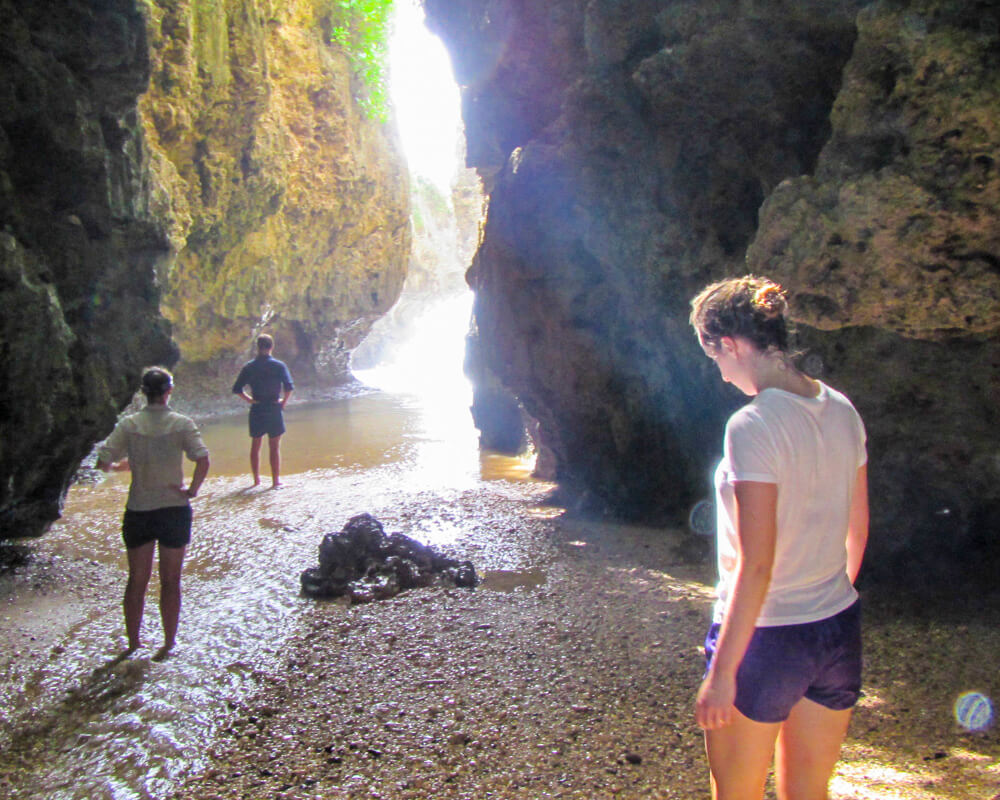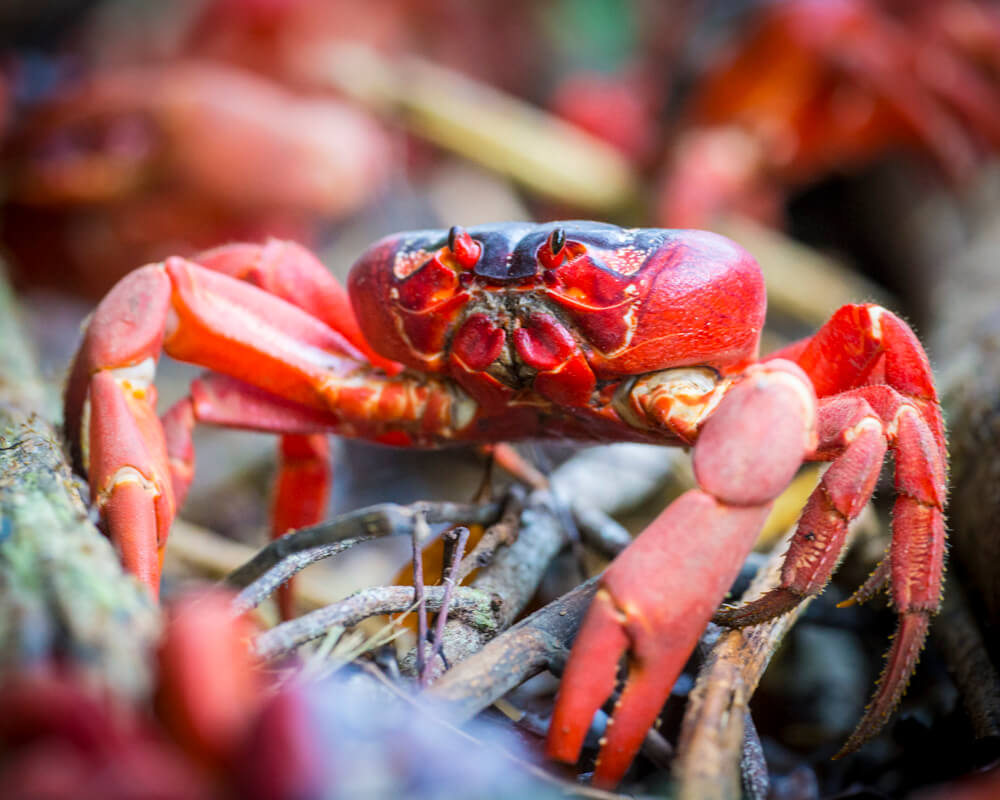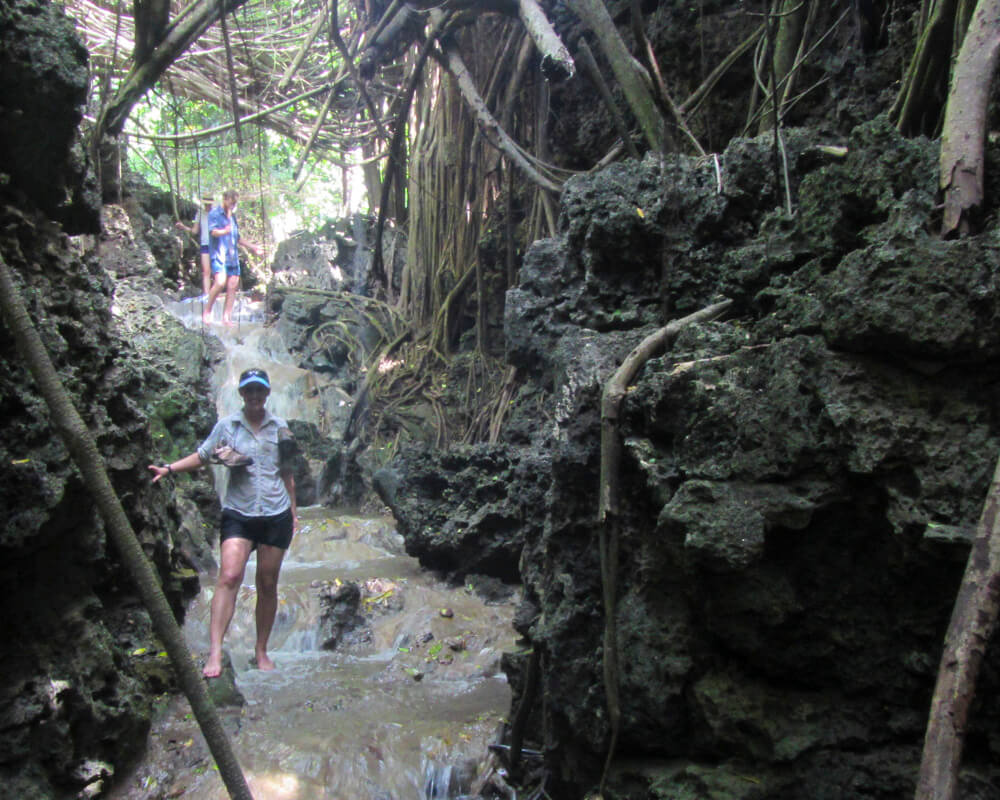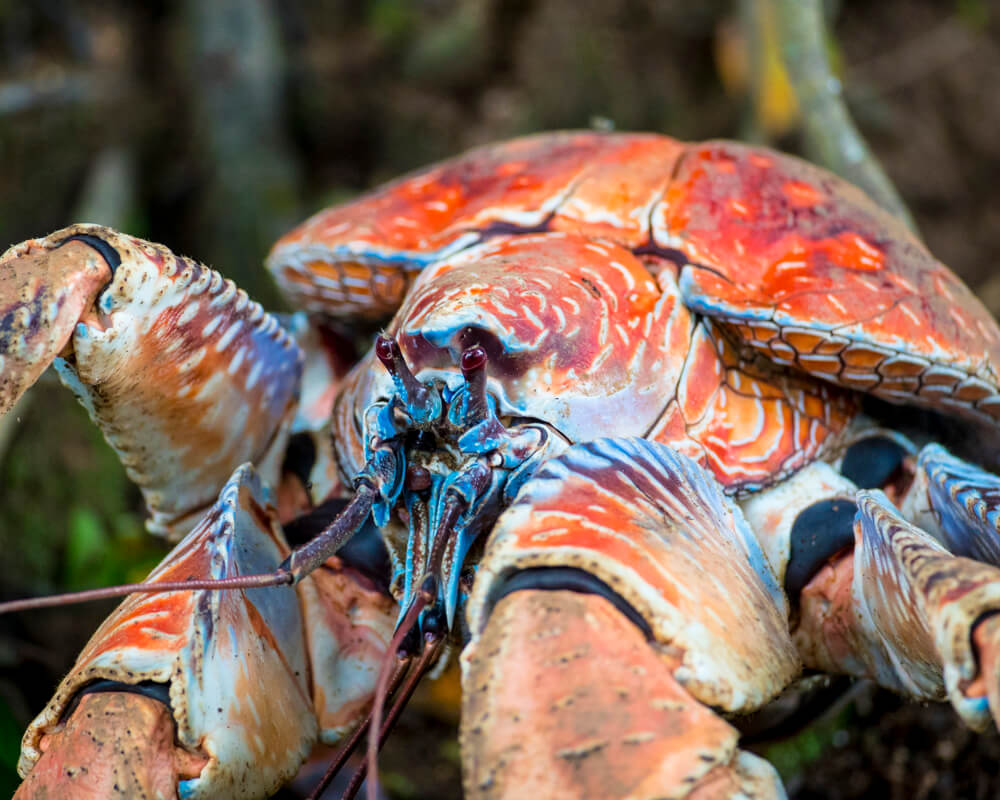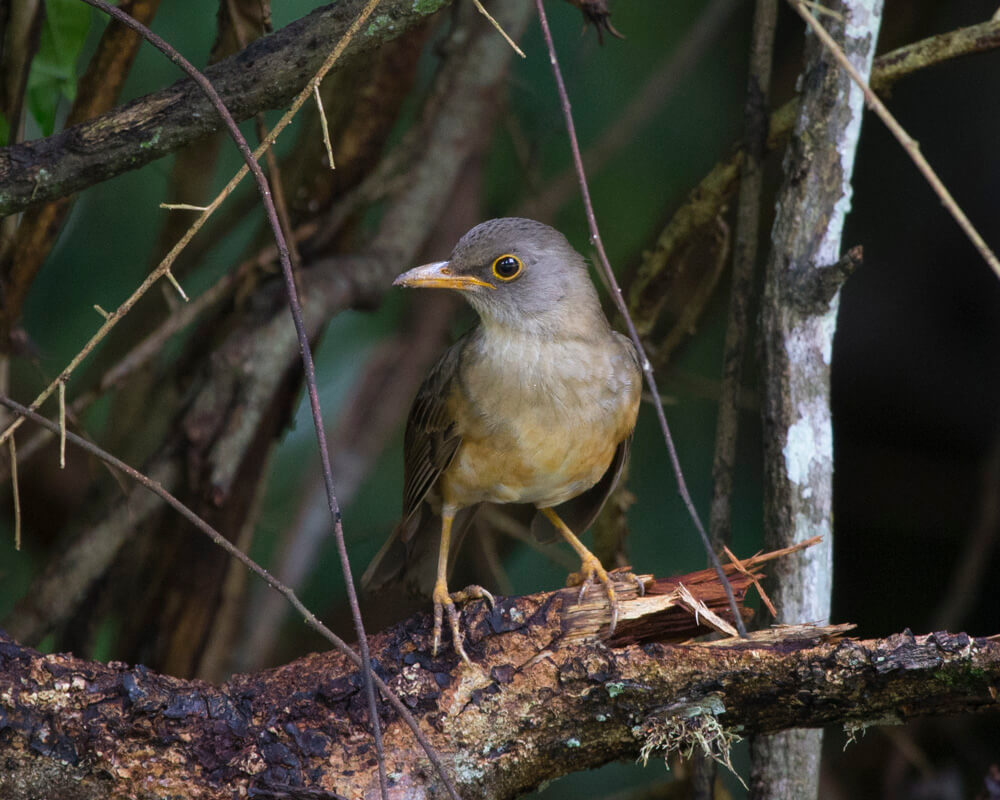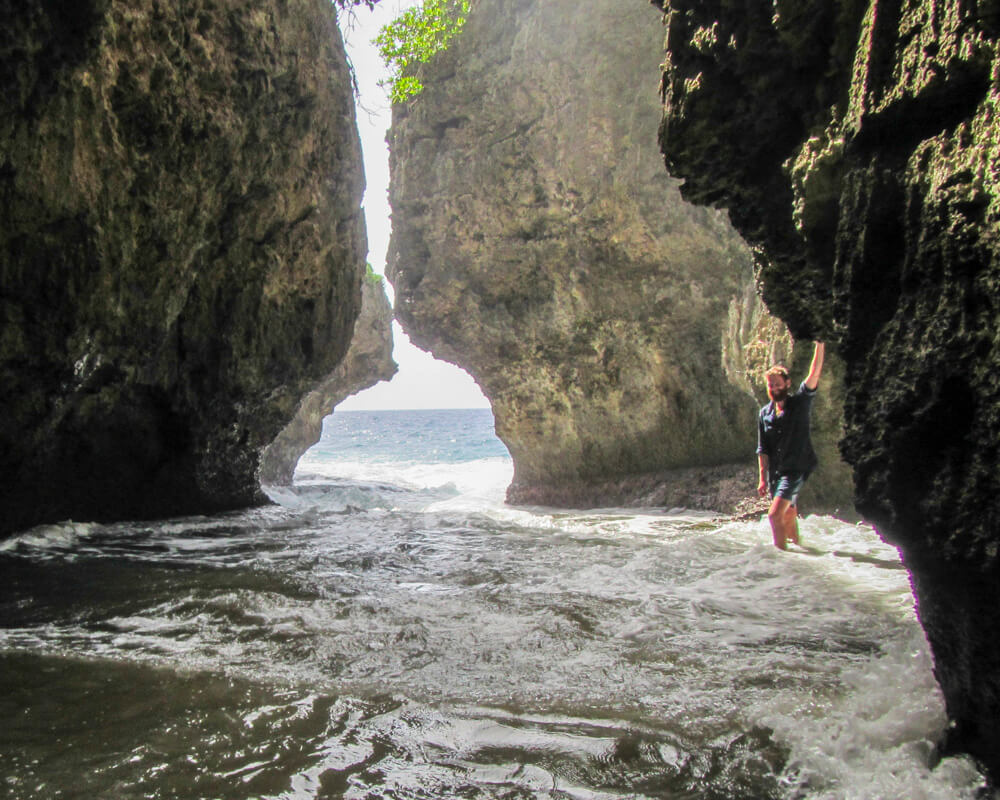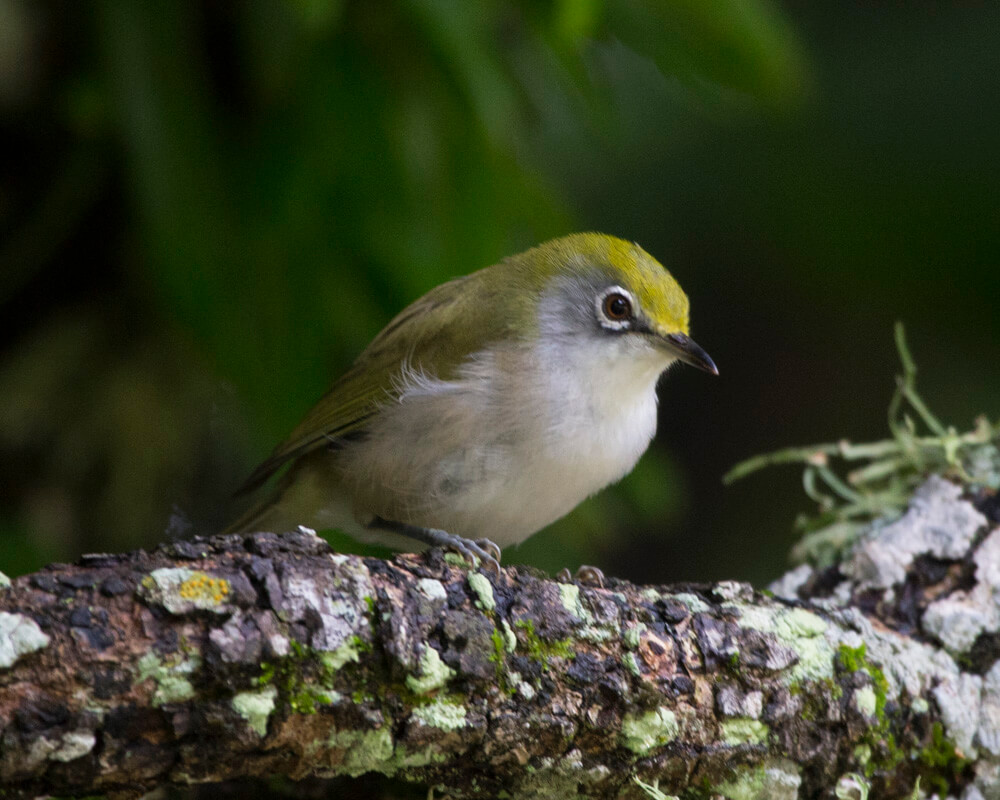 Anderson's Dale
A passage out to sea
Following on from Hughes Dale there's a turn-off leading to a beautiful, permanent stream flowing through a tiny valley. You'll notice a small dam has been built for the pleasure of the resident blue crab population, and there's even shrimp and eels to be found. Following this watercourse down, the valley channels into a small limestone gorge you can walk through, bridged over in parts with delicate roof of tree roots above forming a tunnel, leading you out at last to the ocean.
A guided walk through Anderson's Dale is included in our 7 night package and is an optional extra for our 3 or 4 night packages.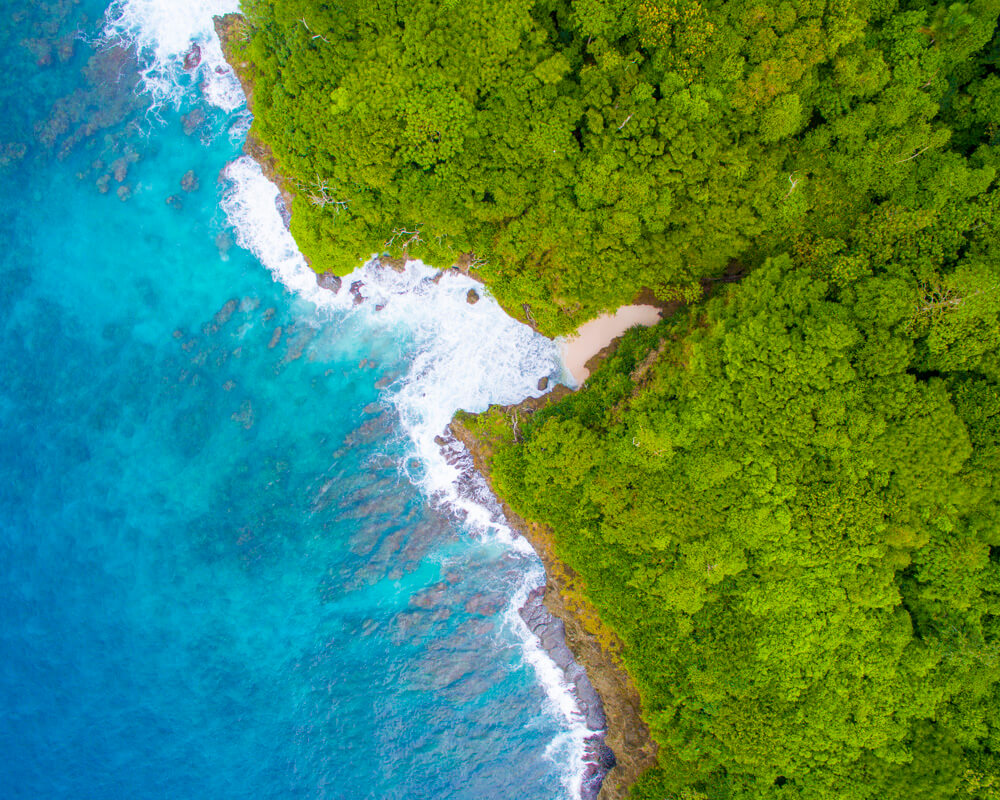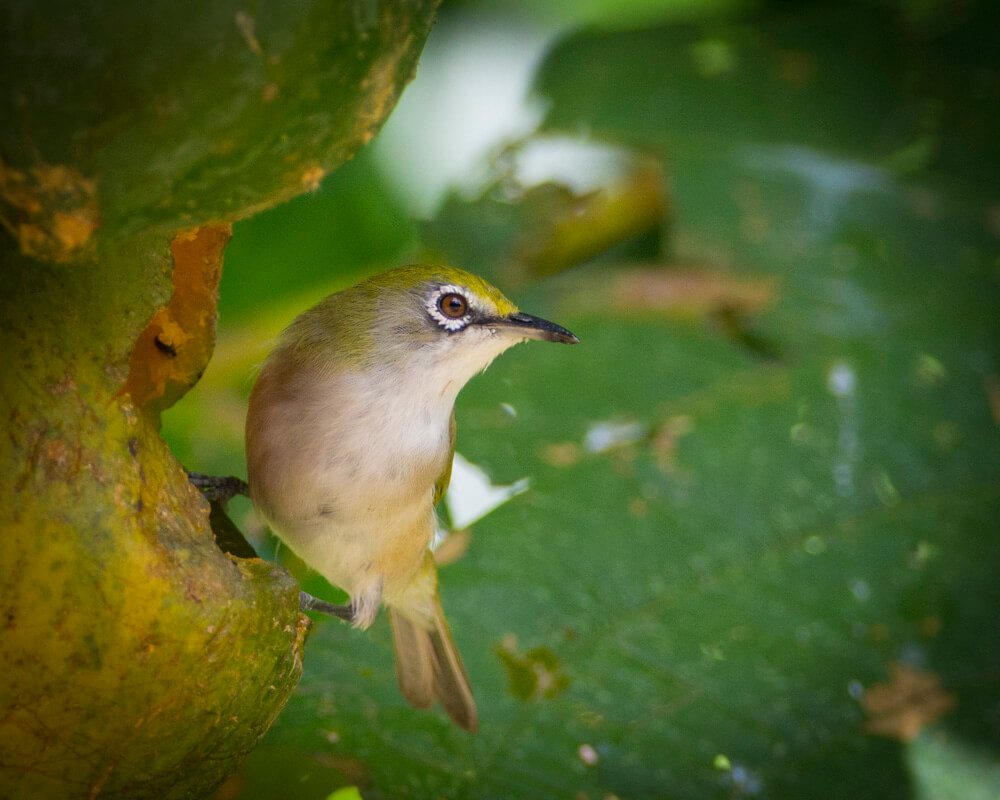 Merrial Beach
The Secret Beach
They say good things come in small packages and Merrial Beach is a perfect example of this! A short, flagged jungle trail (walkable from Swell Lodge) leads to this little patch of sand, nestled into a crack in the coastline and rimmed by high cliffs to each side. It's the perfect escape to relax, unwind, and explore the marine life busy in all the many rockpools. If there's a car in the single-space car-park however, local custom is to come back another time...
A guided visit to Merrial Beach is included in our 7-night package and is an optional extra for our 3 or 4 night packages.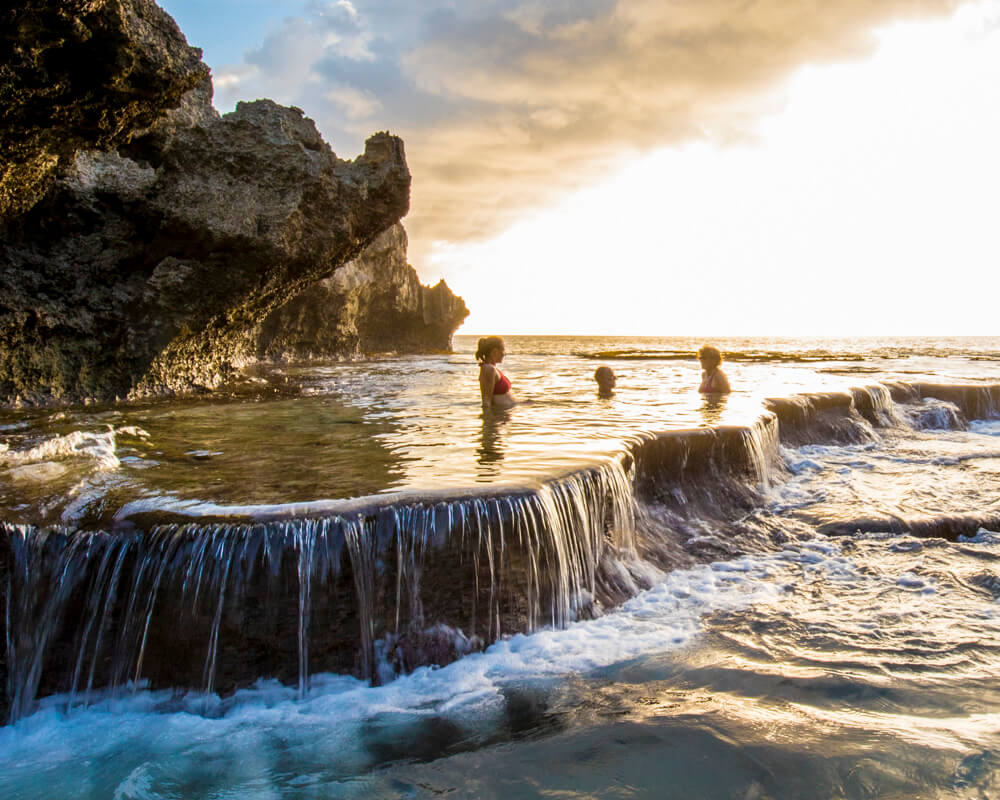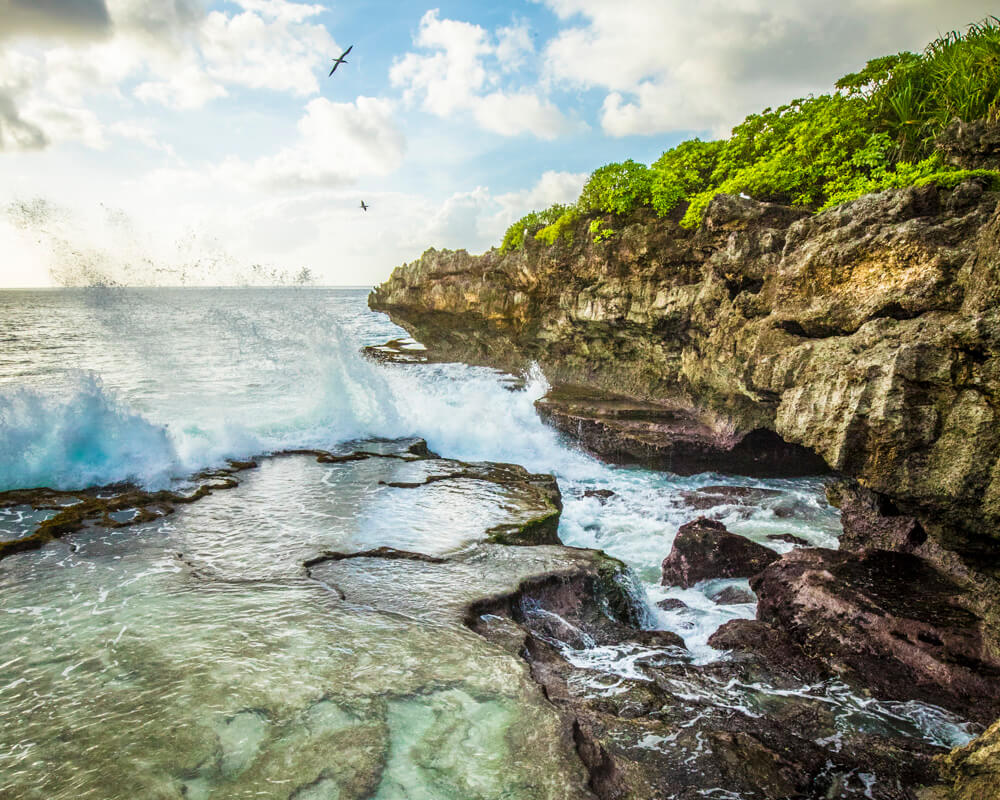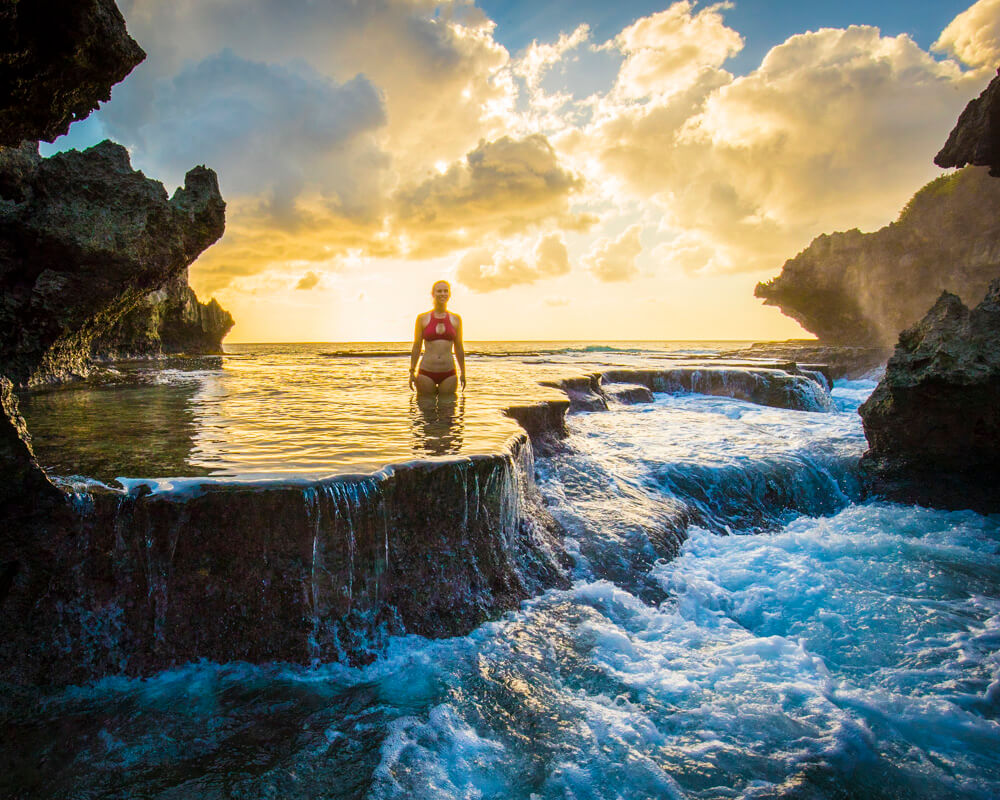 Infinity Spa Rockpool
Utopia
If you're up for a bit of an adventure, you can veer off, part-way along the trail to Anderson's Dale, and instead follow an unmarked route down another watercourse, emerging through the pandanus at last into a secret rocky inlet with a couple of coconut palms. Here the ocean waves break into a series of natural rock pools you can sit in, with each wave spilling excess water around their perimeters in a mesmerising waterfall. Only safe at low tide and when the sea state isn't too rough, this secret little hide-away is a real hidden treasure.
A guided walk to the Natural Infinity Spa Pool can be organised with your guide if weather, timing and fitness levels allow.