THE BEST OF CHRISTMAS ISLAND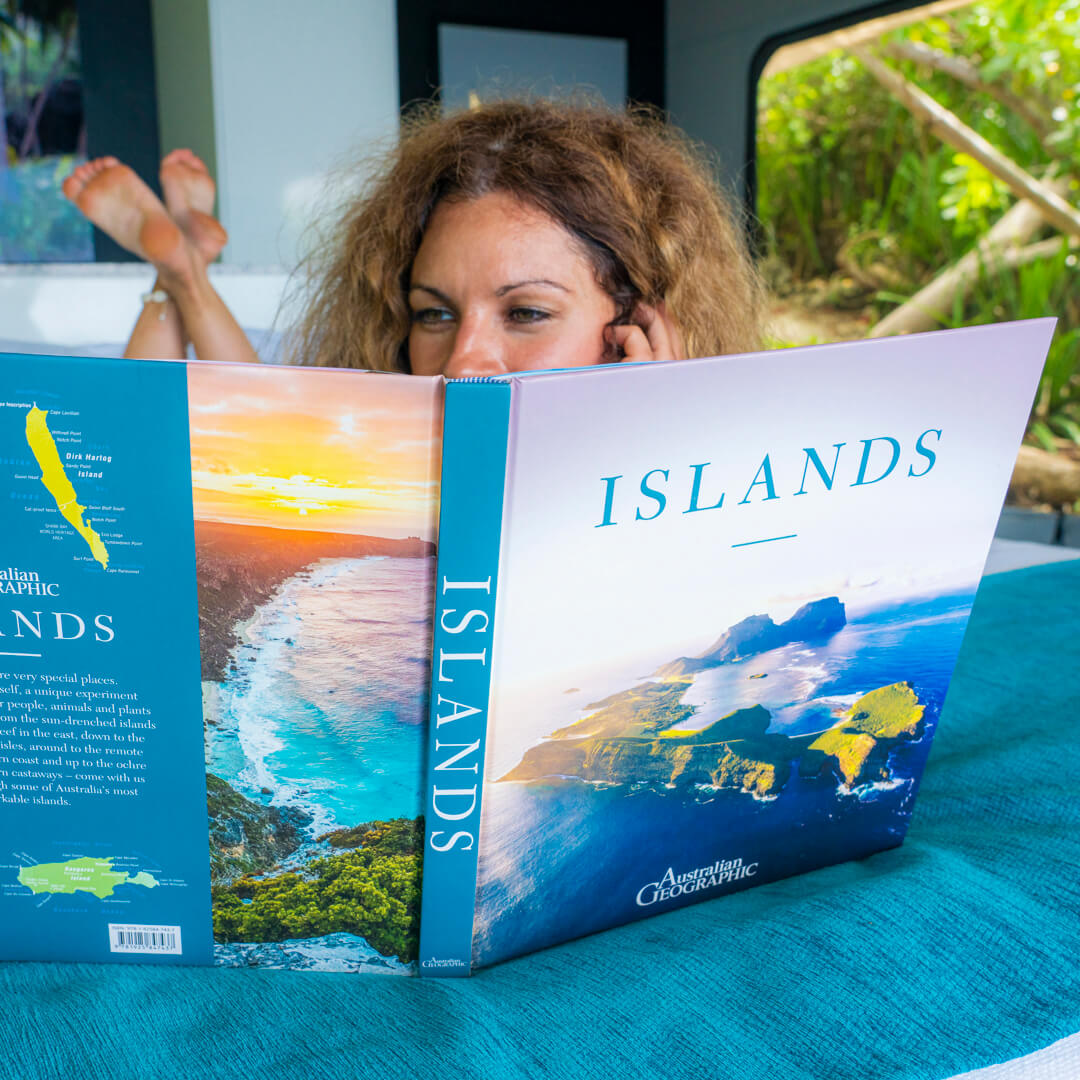 Our nightly rates at Swell Lodge are fixed, year-round and are all-inclusive with airport pickups, daily guided activities, Wi-Fi, complimentary snorkel gear, all meals and unlimited drinks - even a private chef who comes to cook gourmet cuisine using fresh local ingredients right on your ocean deck. From the moment you step off the plane and meet your guide, all your needs will be taken care of.
Your daily guided activities will depend on the length of your stay, but may include jungle walks to refreshing waterfalls you can stand under, secluded beaches, lookouts, natural rock pools, blowholes, plenty of red, blue and robber crabs, amazing birdlife, caves you can swim in, Parks bird feeding, cove snorkels - even a boat charter out to look for dolphins, giant trevally (and in the right season, even whale sharks) to snorkel with! Christmas Island is impossibly diverse and you'll never run out of things to see and do! We have a minimum 3-night stay, however to get the most out of your Christmas Island experience, we strongly recommend staying for 7-nights.
One Guest
ALL-INCLUSIVE:

Airport pickup & dropoffs

Daily guided activities

All meals, drinks & private chef

Complimentary snorkel gear

Wi-Fi internet
Two Guests
ALL-INCLUSIVE:

Airport pickup & dropoffs

Daily guided activities

All meals, drinks & private chef

Complimentary snorkel gear

Wi-Fi internet
Three Guests
ALL-INCLUSIVE:

Airport pickup & dropoffs

Daily guided activities

All meals, drinks & private chef

Complimentary snorkel gear

Wi-Fi internet
SPECIALIST EXPERIENCE PACKAGES
Throughout the year, we host several week-long, all-inclusive specialist experience packages at Swell Lodge which you might be interested in from photography and freediving to wellness retreats and more, which also still encompass the best of the island's main attractions. If the dates don't work for you, let us know as we might be able to arrange one of these specialist weeks to suit your availability.
7-14 April 2020 (or on request)
Citizen Science - Reptile Conservation Week
28 JULY - 4 AUGUST 2020 AND 4-11 AUGUST 2020
Artistic Creative Retreat
Christmas on Christmas Island!
We understand that with the uncertainty in today's current climate, our guests would like some assurance prior to booking with us. As such, we have halved the deposit required upfront, now down to 10% of the tour value. A deposit is required at the time of booking and must be paid within 7 days. Payment of your deposit indicates your acceptance of our booking terms and conditions. The final remaining amount is due 2 months prior to arrival or at time of booking if less than two months away. Guests will have the option for their bookings to be rescheduled or refunded up to 14 days before arrival.
No refund will be given for events beyond our control, such as non-arrival, unused services, unused nights, or additional expenses incurred as a result of airline or weather disruption. Therefore, strongly recommend that you have comprehensive travel insurance when travelling to Christmas Island to cover contingencies.
Christmas Island is currently serviced by three flights a week, 2 from Perth and 1 from Jakarta, as well as one every two weeks from Kuala Lumpur. It's not uncommon to experience flight disruptions due to operational requirements by the airline or weather (especially during the wet season between November and April). Unforeseen circumstances like this may result in you having to change your plans or even cancel at the last moment. To protect non-refundable deposits and payments we strongly recommend purchasing comprehensive travel insurance, ensuring your policy includes trip cancellation and emergency medical care cover.
All rates are in Australian dollars (AUD) and do not include GST (nor is GST payable by you, as Christmas Island is GST-free).
Parks Australia and quarantine limitations do not permit pets anywhere in the National Park or at Swell Lodge. Guests are also not permitted to feed the wildlife.
Your exact itinerary may be shuffled around or tweaked according to weather, tides, track-work, tree-falls, road closures, crab migration or other factors outside our control which will ultimately just add to your island adventure, but rest assured that we'll always be working flat-out to get you to all the best places at the best times of day for the best possible Christmas Island experience! No refunds will be given for experiences missed due to factors outside our control. With sufficient notice, we may also be able to adjust itineraries to suit any special interests, however this may not always be possible.
BOOKING DURING CRAB MIGRATION (Oct-Jan):
Are you sure? Christmas Island is full of red crabs, every day of every year. While more prolific in the wet season, even during the dry season you will still find plenty of them, whenever you want, so don't feel that you have to come 'during crab migration' just to see our famous crabs! While certainly a spectacular event to witness if you're lucky, it can be hard to predict and there are drawbacks like road closures, rain etc which may effect your stay during this time. Please read our comprehensive information document about booking between October and January.