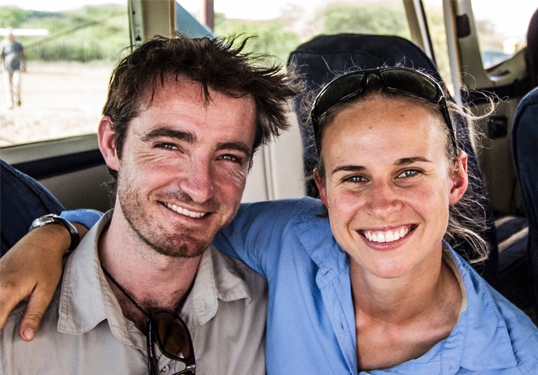 THE OWNERS
Chris & Jess Bray
Having spent a decade running luxury wildlife photography tours to the world's most incredible destinations including Africa, Galapagos, Antarctica, Alaska, Patagonia, the Amazon and Christmas Island, in 2016 this young Aussie duo took up an amazing opportunity – to build the first eco-accommodation inside any of the federally-managed National Parks in Australia.
Weaving in the best ideas from luxury lodges they used around the world, after a year of environmental impact assessments, paperwork and design, in 2017 they set to work building Swell Lodge by hand themselves, down a jungle walking trail, at the end of a 4WD track, on the far side of one of Australia's most remote islands. It was a remarkable journey, helped by a small army of their friends who flew up to give them a hand.
They opened their first eco-chalet in mid-2018 to international acclaim, and their second a year later. With guests flying in from around the world – some by private jet – Christmas Island is fast growing as one of the world's most unique eco-tourism destinations, and Swell Lodge is the jewel in that crown.
Chris grew up sailing around the world with his family onboard their homemade yacht for 5 years, and it was back in 1990 when he was just 7 years old that he sailed to Christmas Island. It was their first stop after the Australian mainland, and Chris remembers it as paradise. It was here he learnt to snorkel in the crystal-clear, warm, fish-filled waters and he was captivated by all the red crabs, the birdlife, jungle, swimming holes and more.
Many years later, as an award-winning Australian Geographic wildlife photographer, Chris returned to Christmas Island with Jess to see if it was as awesome as he remembered it, and to his delight, discovered it was even better. Together they began running sold-out photo tours to Christmas Island every year after that, and it was during one of these that Chris heard Parks Australia were seeking expressions of interest for an eco-development inside the National Park, and he put forward his vision. It was something the island was lacking – quality, nature-focused accommodation to do justice to the surrounding natural wonders. Of all the applicants, Chris's concept for Swell Lodge was ultimately the only project given approval, and so it began…
"Life is too short to miss Swell Lodge. Falling asleep with the stars and the ocean, delicious meals, amazing tours and knowledgeable staff made it beyond brilliant. Our souls are richer for our visit to Christmas Island."
"So much more than a once in a lifetime destination. Exceptional service, amazing cuisine, guided walks from rainforest to beaches and magnificent birdlife. 5 Stars to the entire Swell Lodge team. Thank you!"
"We've enjoyed everything about this unique remote paradise: the lodge & view; the creative cuisine; the fabulous snorkelling; the wildlife; the expert, personable guides. It has been excellent!"
"The attention to detail and quality of every aspect of our week was exceptional and gave us the best experience of this Australian treasure imaginable. Words cannot truly give justice to this experience!"
"One of the most beautiful places I have ever stayed. Unforgettable! Thank you!"
"Sitting on the deck watching the sun set over the ocean we felt like we were the only people on the planet! We are so fortunate to have experienced the magic of Swell Lodge. We'll be back!"