Book direct for LOWEST PRICE and this framed, limited-edition artwork from local artist WORTH $500!
(Tell me more about this artwork!)
We take care of everything, so please, support us by booking online, yourself.
View pricing and booking terms below.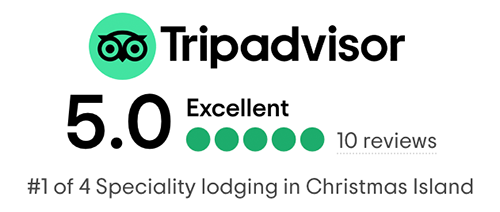 Isolation in a tropical jungle, yet with luxury accommodation and gourmet meals prepared by a chef in the room. The roar of the surf on the reef below, the red... read more crabs covering the path to the lodge, and the collection each day for guided tours round the island.

Thank you Nina and Patrice for a wonderful holiday.

kitesurferPerth


5/11/2021
Airport pickup & dropoff

Daily guided tours

Private chef

All food and drinks

Boat trip (4 day+ bookings)
Airport pickup & dropoff

Daily guided tours

Private chef

All food and drinks

Boat trip (4 day+ bookings)
Three Guests
All-inclusive
Airport pickup & dropoff

Daily guided tours

Private chef

All food and drinks

Boat trip (4 day+ bookings)
We're Filling Fast!
2021 was our biggest year yet, and we're already more than 70% full for 2022! For the latest travel information and requirements please visit indianoceanterritories.com.au, and we're here to help.
We've made our bookings 100% refundable 30 days+ from arrival and transferable right up until your scheduled arrival if you have to delay your stay due to Covid-19, so reserve your spot now!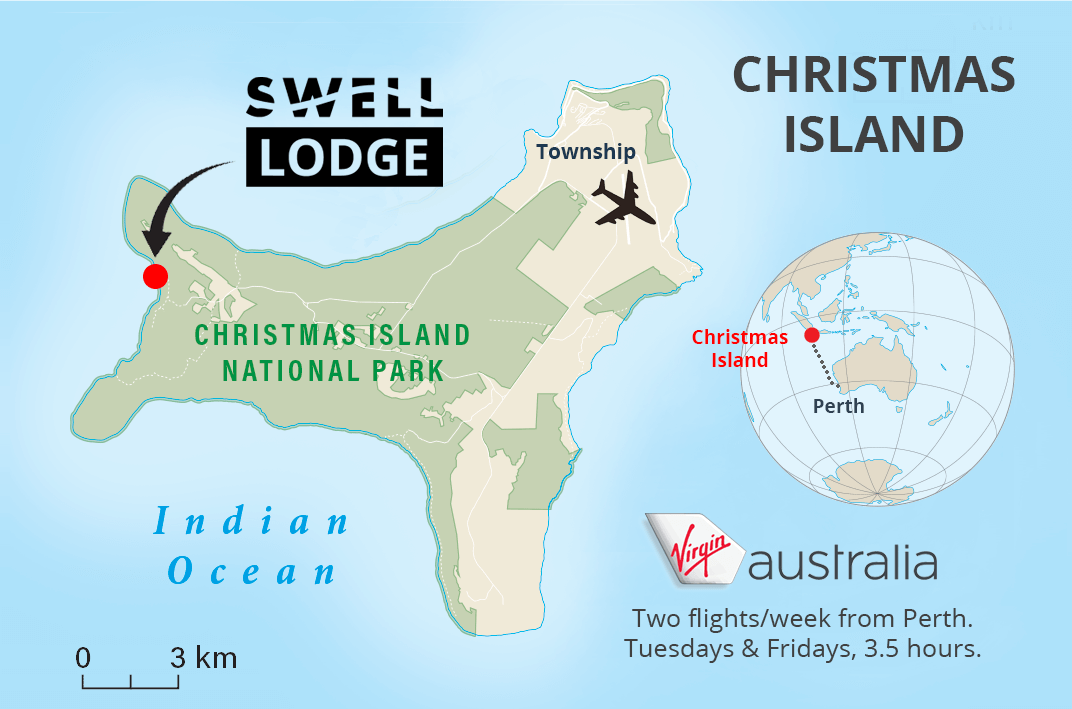 Cancellation Terms
A 10% deposit is required to confirm your booking and final payment is due 60 days before arrival.
Cancelation 60 days+ before arrival: Full refund, minus a $100 admin fee.
Cancelation 59 - 30 days before arrival: 100% transferable* (not refundable).
Cancelation 29 days or less before arrival: No refund, not transferable.
No refund will be given for events beyond our control, such as non-arrival, unused services or nights, itinerary changes, temporary lodge closure or unavailability due to staff or guest covid-19 isolation, or additional expenses incurred as a result of airline or weather disruption. Therefore, we strongly recommend that you have comprehensive travel insurance when travelling to Christmas Island to cover contingencies.
Booking for Red Crab Migration?
Just so you know... Christmas Island is full of red crabs, every day of every year. While more prolific in the wet season, even during the dry season you will still see plenty of them, so you don't have to come 'during crab migration' just to see our famous crabs. While a spectacular event to witness, it is hard to predict when the migration will occur (sometime between October and January, lasting for about 6 weeks), and there are drawbacks like road closures, rain etc which may effect your stay during this time. Read our 'Booking during Red Crab migration' sheet for more info.
Coronavirus Cancellation Terms
We understand that coronavirus can make you a little uneasy about booking travel, so we've made our bookings 100% refundable if canceled 30 days or more before arrival and 100% transferable* right up until your scheduled arrival if government Coronavirus travel regulations prevent you from being able to get to Christmas Island for the start of your stay (our Regular Terms & Conditions apply for cancellations due to any other reason).
Check the official Indian Ocean Territory traveller website for current COVID-19 travel restrictions and requirements.
We have a strict Covid-19 safety plan in place at Swell Lodge, as well as heightened disinfection cleaning, hand sanitisers in all vehicles and eco-chalets etc.
* Transferable means you can postpone your stay to a future available date, which must be within 1 year from original arrival date, else payments are forfeit.
General Booking Terms
Booking for more than 3 guests requires booking both eco-chalets, even if all staying together. Kids are charged full adult price and must be included in total number of guests. If you are booking with kids who are 5 years old or younger, you can still stay at Swell Lodge, however to prevent annoyance to other guests, we require that you book both eco-chalets so you have the whole lodge to yourself. See our FAQ for more information.
"Life is too short to miss Swell Lodge. Falling asleep with the stars and the ocean, delicious meals, amazing tours and knowledgeable staff made it beyond brilliant. Our souls are richer for our visit to Christmas Island."
"So much more than a once in a lifetime destination. Exceptional service, amazing cuisine, guided walks from rainforest to beaches and magnificent birdlife. 5 Stars to the entire Swell Lodge team. Thank you!"
"We've enjoyed everything about this unique remote paradise: the lodge & view; the creative cuisine; the fabulous snorkelling; the wildlife; the expert, personable guides. It has been excellent!"
"The attention to detail and quality of every aspect of our week was exceptional and gave us the best experience of this Australian treasure imaginable. Words cannot truly give justice to this experience!"
"One of the most beautiful places I have ever stayed. Unforgettable! Thank you!"
"Sitting on the deck watching the sun set over the ocean we felt like we were the only people on the planet! We are so fortunate to have experienced the magic of Swell Lodge. We'll be back!"