Just two luxury ecoLodges
Swell Lodge
Like nothing else on Earth
You'll never forget opening the door to your ecolodge for the first time!
The wow-factor of that jaw-dropping, uninterrupted ocean-view, through the ceiling-to-floor, wall-to-wall glass. Inexorably drawn towards it, at first, you'll scarcely notice the stunning interior, glass sculptures, stone bench tops, luxurious king-sized bed or Italian-tilled ensuite bathroom as you step in awe onto the expansive deck.
Our ecolodge is unique. Nowhere else in the world can you enjoy such luxury and privacy, watching ocean swell roll in and break onto kilometres of wild, uninhabited coastline, with seabirds soaring past at eye-level checking you out. Then comes your private chef, sunset over the ocean and day after magical day of complimentary tours sharing the highlights of this mind-blowing paradise, filled with natural wonders. Swell Lodge is the best accomodation on Australia's Christmas Island, and is perfect for a wilderness getaway or amazing honeymoon destination. 
Take a sneak peek inside one of our ecolodges…
Private Chef
Staying in our luxury ecolodge isn't just about the location, it also means our chef will prepare gourmet 3-course meals for you using fresh and locally foraged ingredients, usually right on your oceanfront deck as you enjoy sunset over the ocean. The perfect relaxing end to your day!
Wine, beer and even gin & tonic (with a squeeze of wild jungle lime, perhaps?) is all on the house, as is a self-serve breakfast and the beautiful picnic lunches for your daily guided tours.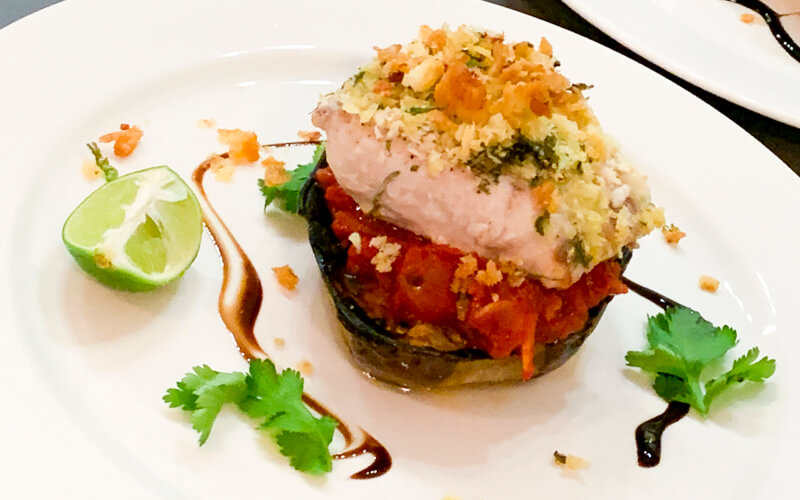 ★★★★★ 
Issy is a world class chef and we thoroughly enjoyed his food creations!" 
– Tony B 
★★★★★ 
"The 'resident' chef never failed to impress each and every day with quality and variety under pretty challenging conditions. Could not fault a thing – one highlight being his 36-hour pork belly, or maybe the tuna ceviche, or the choc-whisky ice cream?"
– Sharyn G
Ready to Book?

With only 2 ecolodges Swell Lodge books out quickly each year!
To check rates and our booking calendar click the button below.
Wilderness Luxury
Inside the National Park on the far, uninhabited coast of one of Australia's most facinating islands sits our peaceful, luxury ecolodge. 
Each lodge is accessed by a lush 4WD track followed by it's own private 80m walking trail which leads through the jungle (alive with Christmas Island's famous red crabs and exotic forest birds) to the edge of the Indian Ocean .
From this incredible clifftop location you'll be able to experience the unique wildlife of Christmas Island. Boobies nest on the ledge just out the front of the ecolodge, frigatebirds soar majestically past and goshawks even perch on the ocean-deck railing from where you can usually see vibrant blue parrotfish swimming on the reef, through the waves. Pods of dolphins pass by, tuna jump and the hypnotic ocean swell, clouds and light are forever changing. Our ecolodge isn't just a splace to stay, it's an experience!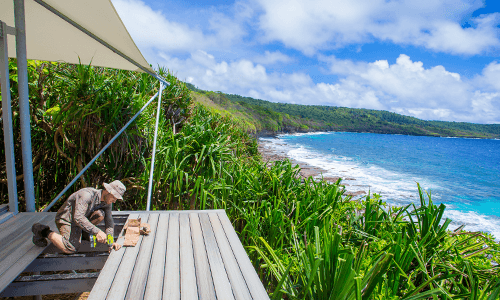 "Absolutely Remarkable"
Every piece of this astonishing, solar-powered wilderness escape has been carried in and assembled by hand in the middle of one of Australia's most amazing National Parks, on Christmas Island.
Swell Lodge has been awarded Ecotourism Australia's highest level of certification 'Advanced Ecotourism' and 'Climate Action Business' reserved for exemplary operators for our ecological sustainability, natural area management and provision of authentic experiences.
We even have a 'crab-safe vehicle' to use during crab migration!
FEATURES
Your Luxury Ecolodge Includes…
Free WiFi
Enjoy satellite broadband internet, or perhaps just stay unplugged.
Coffee Machine
Enjoy locally roasted eco coffee pods or a selection of the finest teas.
Limitless Bar
Free wine, beer, cider, gin, soft drinks and more. Enjoy responsibly.
Complimentary Pantry
Feeling peckish? There's tasty snacks and drinks on us!
Italian-tiled Bathroom
Enjoy the luxury of a hot water shower while gazing into the jungle greenery.
iPad
Loaded with our own app (itineray, info, tides), star-gazing apps etc.
Bluetooth Speaker & Spotify
Chill out to your favorite tunes using our complimentary Spotify account!
Haiku Ceiling Fan
Super-efficient, sleek and sexy, the fan above your bed is next-generation.
Mains Power 240V AC
Sure, go ahead, plug it in. We've turned the sunshine into electricity for you.
Yoga Mats
Even non-yoga masters will enjoy a few morning streches on your ocean deck.
VoIP Telephone
Keep in touch – there's a free internet phone beside your bed.
Library
Read up on the wildlife, identify some plants or discover the island's history.
Fridge & Freezer
There's gin and ice in the freezer, beer, wine, milk etc ready in the fridge.
Binoculars
Get a closer look at those dolphins, birds etc!
Snorkel Gear
Borrow a mask, snorkel and fins if you don't have your own.
King-sized Bed
Can swap for 2 single beds. Couch folds out into 3rd bed if required.
Canvas Sidewalls
With massive, zip-down, meshed windows opening to the jungle.
Wildlife Pocket Guide
Identify & tick off the birds, crabs, fish and more!
We're
OFF-GRID

ON A REMOTE ISLAND
Your Eco-chalet
DOES NOT

Include…
NO Air Conditioning
Your eco-chalet is equipped with a super-modern, high-efficiency Haiku ceiling fan above the bed delivering a strong cooling breeze even if the ocean doesn't. We've never had a guest complain that it's too hot, and we have had several request thicker blankets! Aircon is not necessary and is impossible to power from solar panels.  
NO Daily Service
Your eco-chalet will be beautifully cleaned before and after your stay, and if you're staying 4 or more nights then you'll receive a mid-week clean too. The chef and/or guides can replace things every day if need, but we won't be interrupting your serenity with a full room clean every day. 
NO Weather Guarantees
Most of our included guided activities are outdoors, and if you choose to come out on a rainy day, you may get wet – but it's not cold rain, nor does it last forever. Rough seas may cancel boat trips, fallen trees may block access to some places we wanted to show you, but that's life on a tropical island, and with the right attitude, you'll still have a wonderful time!
It's time to book!
We're already filling fast for 2023, so be sure to get in early and book your dates to avoid missing out on one of our luxury ecolodges!  
You can view our current rates and booking calendar by clicking the button below.