It's your choice
When to come?
While the air temperature remains a balmy 23-29°C all year, we have a wet and a dry season on Christmas Island. Both seasons have their own amazing advantages and some drawbacks, and the best choice for you depends on what you want to see and do, and your fitness.
What our guests say...
"A brilliant place & team delivering a most unique experience in one of the last true wilderness locations on Earth! Thanks guys!" ⭐️⭐️⭐️⭐️⭐️
"Could not rate more highly!!! Awesome location, awesome people, awesome food!" ⭐️⭐️⭐️⭐️⭐️
"We had a fabulous time thank you! This wasn't a once-in-a-lifetime experience because we will be back!" ⭐️⭐️⭐️⭐️⭐️
"We're going to miss our lodge on the ocean! Thank you to everyone from the bottom of our hearts!" ⭐️⭐️⭐️⭐️⭐️
"Life is too short to miss Swell Lodge. Falling asleep with the stars and the ocean, delicious meals, amazing tours and knowledgeable staff made it beyond brilliant. Our souls are richer for our visit." ⭐️⭐️⭐️⭐️⭐️
"One of the most beautiful places I have ever stayed. Unforgettable! Thank you!" ⭐️⭐️⭐️⭐️⭐️
The Wet Season

(October-April)
While the rains don't typically start until November, it can rain in October, triggering an early Red Crab Migration. The migration (which is unpredictable, starting soon after whenever the rain does and lasts around 2 months, check possible spawning dates here) is a spectacular event to witness and an amazing time to be here, however it brings several challenges you need to be prepared for:
Many of the island's roads unpredictably close to vehicles giving the crabs safe passage, making many of the island's other attractions inaccessible unless you're fit enough to walk several kilometres. The walks in and out are beautiful through the lush, crab-carpeted jungle, but if you don't cope well with humidity, hills or hiking, expect to skip some of the included daily tours and enjoy a relaxing day in your eco-chalet instead. Our vehicle access into Swell Lodge is also strictly controlled during road closures – we need to use our crab-safe crab-mobile which makes driving in and out slow (up to 1hr each way if there's lots of crabs).
Wet season also increases the chance of other inconveniences including flight disruptions and swell affecting water-based activities. It's still one of our busiest and best times of year, most guests absolutely love it, but it really is better suited to fitter guests who don't mind a bit of adventure, because anything could happen. "Hop out and rake those crabs off the road, would you? Thanks."
Our Closed Period 
(January-March)
This is the wettest of the wet season, the crabs should have done their thing by now, and it's time to give our staff a break, do a bit of maintenance and wait for the island's roads to be repaired and re-opened. Our office is still open to handle bookings so get in early!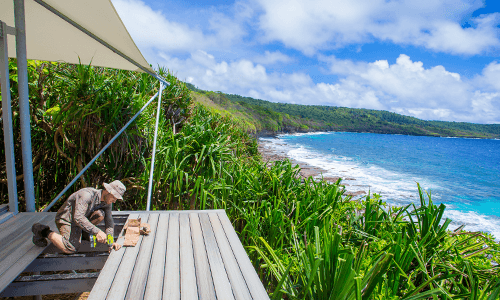 discover
Australia's best-kept secret
We Have Vacancy!
Treat yourself to the Swell Lodge experience.